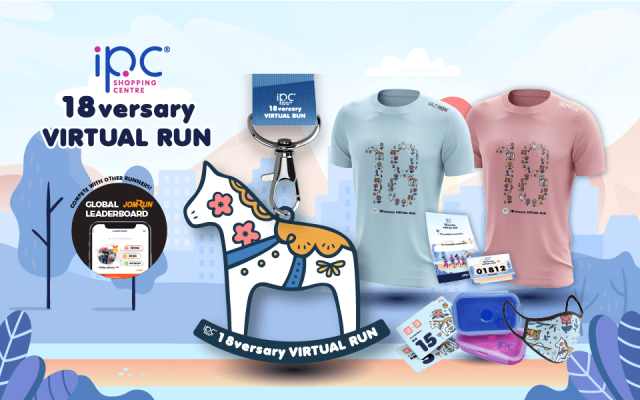 Bridging communities in the spirit of celebration this year-end through an airport-themed Christmas experience and 18versary Virtual Run
Kuala Lumpur, December 1, 2021 – As the borders open and Malaysians prepare to travel again, IPC Shopping Centre brings back the wonders of travelling via flight with an airport-themed Christmas celebration. Inspired by the long-awaited sense of normalcy, IPC's 'Passport to Shop' features a mini airport set up filled with shopping delights, festive activities, and exclusive deals and rewards from now until 2nd January 2022. This year, the celebration is much more significant as it also marks IPC's 18th year anniversary.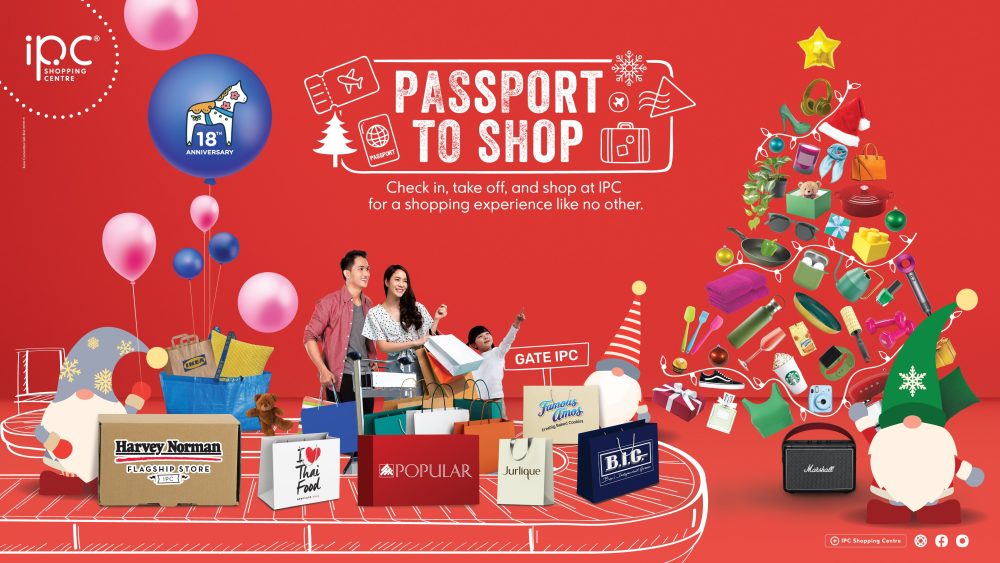 Passport to Shop at IPC Shopping Centre
Building up the anticipation for the next travel adventure via flight, shoppers and visitors can now look out for departure timings, check in to their shopping destination, and buckle up in a make shift cabin all from the comfort of the concourse of IPC Shopping Centre Visitors can also capture their take off experience once they are seated in the cabin.
While waiting for take-off during weekends, patrons can also keep themselves entertained by special performances put together by carollers, jazz duos, dancers, puppeteers, and comedians. Little travellers can also enjoy different guided crafts and DIY activities. Families can also capture picture perfect moments with the Små Club Buddies, Tomte and Swedish Maidens as they walkaround the shopping centre to hand out free balloons to children from 12pm onwards. To celebrate IPC's 18th anniversary, 18 lucky shoppers who are able to answer a simple question during the Små Club Buddies walkabout on the 18th December from 5.30pm to 6.30pm will be rewarded with special prizes.
To provide customers with the full travel experience, IPC Shopping Centre has also introduced "shopping miles" in replacement to "air miles" on the IPC mobile app. With every RM200 spent, shoppers would be able to earn 1 shopping mile. The accumulated miles can be then be used to redeem items such as shopping vouchers, e-vouchers from Popular, F&B outlets, Fashion and Beauty outlets, and ceramic bowl set.
To further dial up the festive gifting, IPC is also offering shoppers who shop at any tenants stores exclusive holiday rewards that can be redeemed on the same day at the i-Counter located at Level G.
Exclusive rewards as follow:
Redeem one (1) RM10 Christmas e-voucher with a minimum spend of RM200 within two (2) receipts
Redeem one (1) Christmas Tiffin Carrier with a minimum spend of RM700 within three (3) receipts for normal shoppers or with a minimum spend of RM600 within three (3) receipts for IPC Tack Club members
Mark Tan, Marketing Manager of IPC Shopping Centre said, "Since majority of the states in Malaysia have moved into Phase 4 of the National Recovery Plan, we saw an increase of traffic in our shopping centre as patrons gather with friends and family for a fun and meaningful time together. We introduced the airport theme decoration this Christmas to commemorate the nation's progress towards the endemic and borders opening for interstate and international travels."
"We understand that as the community accustoms themselves with the new norm, be it visiting public spaces or travelling, many are still wary of the virus. Hence, we want to create a safe space for our patrons to reminisce the good old days of traveling and shopping with a peace of mind whenever they visit our centre. In addition to the adherence to the government's latest directives on hygiene, physical distancing, and contact tracing, we have also collaborated with IKEA to include live Christmas trees as part of our Christmas decorations throughout the centre to give patrons a breath of fresh air while adding on to the Christmas travel vibes from traveling internationally. Not only that, customers can also contribute to a green cause by sending their live trees back to IKEA post-Christmas where they will be sustainably disposed and turned into woodchips to be reused in biomass fuel boilers," he added.
IPC 18versary Virtual Run
In the spirit of reminiscing and celebrating all that has happened during the year and looking forward to a better future, IPC Shopping Centre also welcomes patrons who prefer speed via feet instead of speed via flight to participate in its very first virtual run in conjunction with its 18th anniversary. Co-organized with JomRun, the 18versary Virtual Run will take place from 18th December 2021 to 16th January 2022.
"Throughout the 18 years of operation, many from all over have stepped foot into IPC Shopping Centre. In the past, we have also organized annual New Years Eve Fun Runs where the community would come together to usher in the new year. This year, we have put together this virtual run for all whom we've crossed paths with regardless of where they are located now to join us as we run into the new year in a healthier way," said Karyn Lim, General Manager of IPC Shopping Centre.
As the pandemic has taught us to adapt to the situation and live the moment in our own time and space, the virtual run also allows participants to decide on the amount of time they need to finish the race and the way they want to finish the race, be it catching a breath in nature, jogging around the park, running on a treadmill, or even walking at IPC Shopping Centre as all steps can be tracked on the JomRun app," she added.
Patrons who sign up and complete the run would also be rewarded with exclusive merchandises such as a finisher tee, medal which they can choose to engrave their names on, and face mask designed by local artist, azreenchan. These merchandises incorporate unique elements such as the Dala horse, flowers, and tiger that brings out both Swedish as well as Malaysian culture that essentially represents IPC Shopping Centre. Moreover, finishers will also receive an IPC e-voucher, an e-bib, e-cert. to celebrate the completion of the run.
Patrons who wish to sign up for the 18versary Virtual Run or understand more about the race can visit
www.jomrun.com/event/IPC-18versary-Virtual-Run.
Through campaigns like the Passport to Shop and 18versary Virtual Run, IPC Shopping Centre is committed to inspire its community to live a healthily and freely, safe from the virus as they work together with tenants for business recovery.