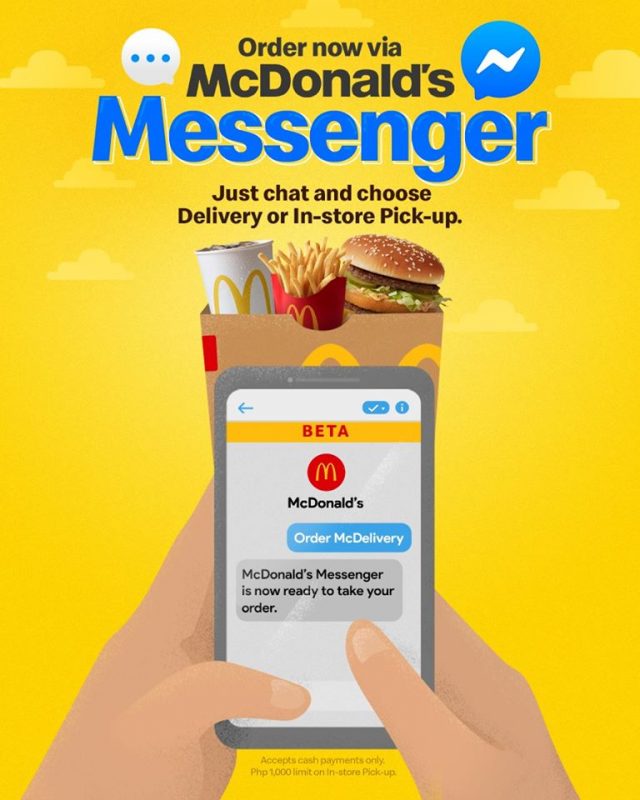 Now there is a new way to order McDonald's in the Philippines via the new McDonald's Messenger. The service is available for Delivery or In-store Pick-up. The link is m.me/McDo.ph.
Here are the steps:
Step 1: Start a chat with @McDonald's on Facebook Messenger. Once the "Order McDelivery" message pops up, tap "Select".
Step 2: Swipe right to browse menu. Tap "Select" on your chosen food item. You can also type keywords such as "Cheeseburger" or "Chicken McDo".
Step 3: Once you've chosen your order, tap "Add To My Bag" or change add-ons by tapping "Customize".
Step 4: Go to "My Bag" so you can check your order on the Order Summary.
Step 5: Tap "Proceed to Checkout". To order more, tap "Add More Products".
Step 6: Choose between Delivery or In-store Pick-up then enter your contact information.
Step 7: Wait for a confirmation message. Enjoy!
Fast food operators are exploring various means including harnessing familiar apps and social media tools to provide extra convenience to consumers to eliminate the barrier to placing their first orders.