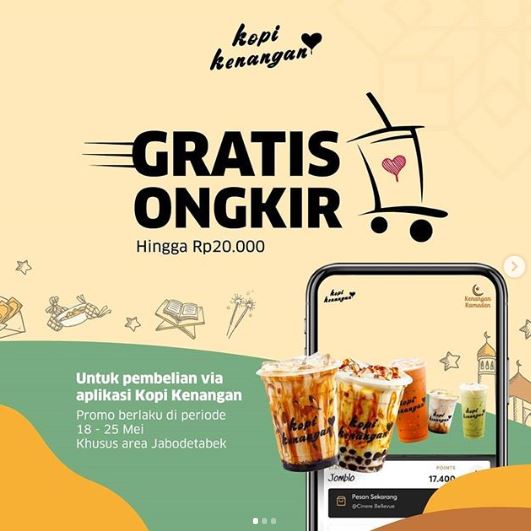 The Indonesian coffee startup Kopi Kenangan experienced more than 50% growth in online sales, while offline sales fell by 80%, reported Bisnes.com citing Kopi Kenangan Founder and Chief Executive Officer Edward Tirtanata. The coffee chain recently made the headline with the news of a USD 109 million Series B funding led by the company's existing investor, Sequoia Capital.
Kopi Kenangan made a wise decision by started to opening up new stores in gas stations and shophouses by the end of 2019 with a reported more than 50% rise in sales in these locations, said Tirtanata as reported by Dealstreetasia.com. Street-side stores now account for less than 20% of its total of 324 outlets.
Store expansion is still underway even during the COVID-19 outbreak with 30 new stores being opened every month, down from the initial target of 50 opening per month. The company continues with store expansion as there are still areas with little or no presence of Kopi Kenangan.
Fore Coffee, a competitor, said online sales saw a weekly increase of 12.8% and has started selling 1-litre of bottled kopi (Indonesian ice coffee latte) for stock up at home. The coffee chain has denied rumours that is is shutting down due to the pandemic. The company did confirm it has closed several stores.
To provide the added assurance of hygiene, Fore Coffee has introduced the Barista Delivery service via its app. The initiative is being held on 16-22 May 2020 where the barista will deliver the order directly to consumers for order less than 2km from the Fore Coffee outlet.