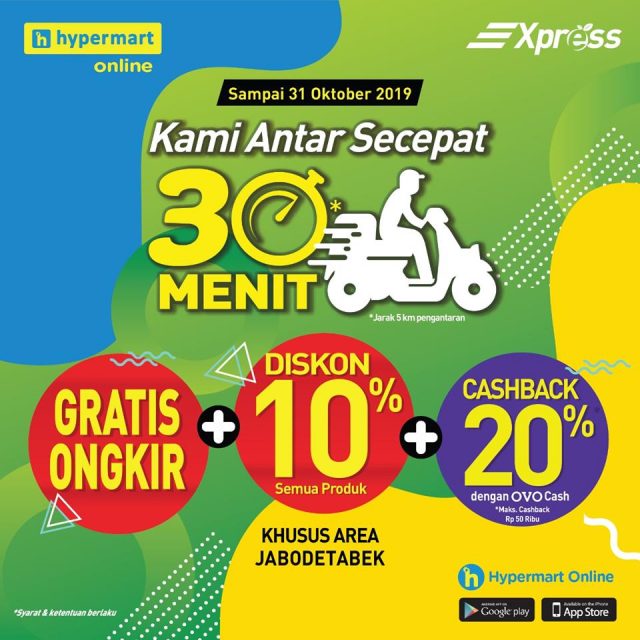 Hypermart, Indonesia's largest hypermarket chain, has launched Hypermart Online Express. The new service provides quick delivery for residents living within a 5km radius of any Hypermart store in the Jakarta Metropolitan Area (Jabodetabek). Once the order is placed, the shopper will only need to wait maximum 30 minutes to receive the goods, which will be sent directly to their address.
Hypermart Online Express reminds us of China's Hema Supermarket, which also guarantees a 30-minute delivery time for an order placed if the customer lives within a 3km radius of a Hema outlet.
Apart from solving the "last mile" logistics issue that is often a problem with e-commerce, grocery chains providing a 30-minute delivery can provide value-added products to its consumers. Such products include those with a very short-expiry period such as pasteurised fresh milk, which Hema is selling at its stores in China. The daily fresh milk range is only displayed for 1 day. The stock is replenish overnight ready for each new day.
The quick delivery service also improves the competitiveness of hypermarket in face of the popularity of proximity shopping. In Indonesia, consumers are opting for minimarket as they have competitive prices and these stores are often within a short distance from their home.
Athe moment, minimarket chains like Indomaret offers free delivery of cooking gas and 19L gallon water, while Alfamart's e-commerce platform Alfacart and Indomaret's Klikindomaret provide free shipping with a minimum spend of IDR 100,000. Hypermart's guaranteed 30 minute delivery represents the next level in convenience.