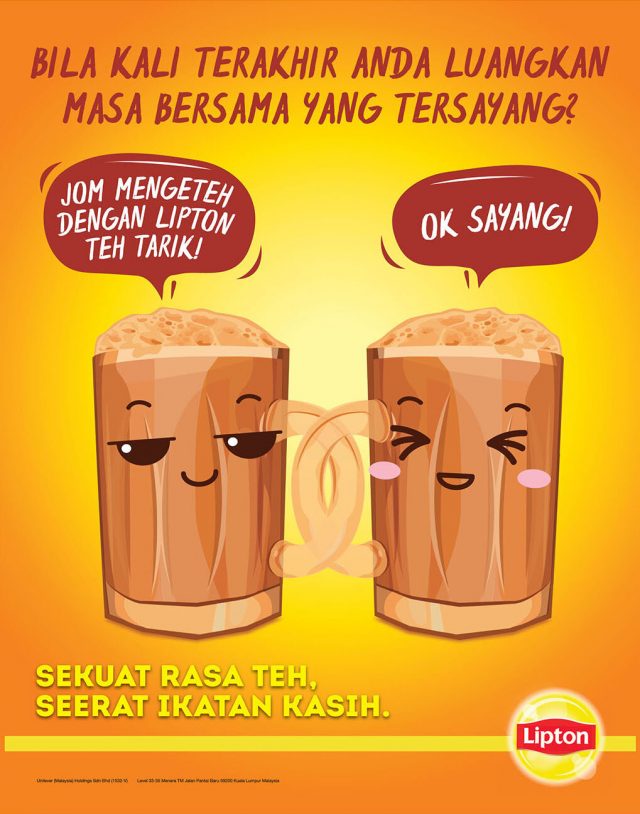 Kuala Lumpur, 11 October 2019 – Lipton is back once again to bring Malaysians closer to each other, one cup of tea at a time. In this modern day and age, we tend to get caught up in our fast-paced lives, with the advancement of technology limiting all daily communications within the constraints of our mobile screens, resulting in real-life connections being sidelined.

As a fast-growing country, it comes with no surprise that Malaysia has the highest social media penetration in Southeast Asia. A recent study* showed that 80% of the nation's population spends an average of 8 hours online. This proves that Malaysians dedicate a healthy portion of their daily lives to screens. 

These global and local findings led to Lipton's latest campaign, #KawBersama, which aims to encourage Malaysians to foster strong bonds over a strong-tasting cup of tea. Tea time is a tradition that has been practiced from generation to generation in Malaysia, and every family has their own unique rituals surrounding tea time, making it the perfect time to build quality connections.
The campaign kicked off earlier this year with popular Malaysian superstar Amyra Rosli in a series of commercials that saw the actress working with her husband and mother respectively to bring the message of #KawBersama to life.