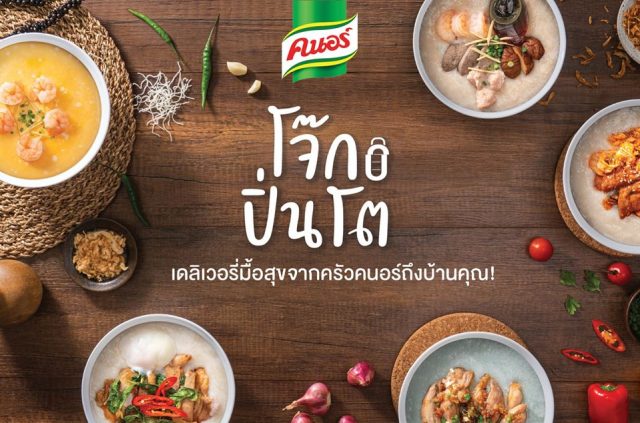 In Thailand, Unilever's Knorr is bringing its instant porridge to the next level with Knorr Pinto. Pinto is Thai for lunch box. The Knorr Pinto contains porridge and freshly cooked toppings such as shrimp, chicken and pork in two separate containers stacked like a multi-tiered food container. Ginger and spring onions are included. Prices start at just THB 59.
With dine-in temporarily banned but has since been relaxed, restaurants now are shifting their business model to online delivery and take-away following the COVID-19 outbreak. Interestingly, instant porridge maker Knorr is also tapping the same online delivery channel by offering freshness and convenience. Knorr Pinto represents the upgraded instant porridge that provides restaurant-like quality through the use of freshly cooked toppings. The extra convenience is provided by leveraging on home delivery.
Knorr Pinto is available on GrabFood: https://bit.ly/2SazyWd and LINEMAN: https://bit.ly/2VPrH2Q. The delivery is confined to Bangkok and its vicinity areas.
Knorr has also made available