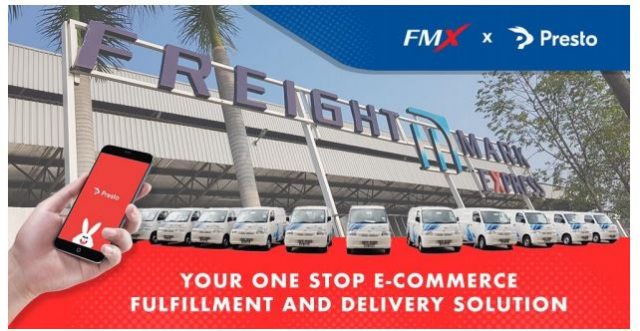 FMX and Presto forges strategic partnership to offer storage and logistic solutions for all
SMEs and customers can now store their goods at FMX's warehouse and run businesses online using the Presto app
Immediate and unbeatable express shipment after confirmed purchase by customers
Kuala Lumpur, 6 July 2020: FMX and Presto are proud to announce that they have forged a strategic partnership to provide a one-stop e-commerce fulfilment and delivery solution to potential sellers, as well as to improve customers experience. The strategic partnership focuses on storage and shipment solutions exclusively for business-to-business-to-consumer (B2B2C) model.
This partnership aims to introduce FeF (FMX e-commerce Fulfilment) – a one-stop courier service center specializing in courier service, warehouse (storage) and e-commerce fulfillment services. FeF will integrate with ParcelHub that will act as a drop-off point for various third-party e-commerce merchants allowing them to use this service to drop-off or pick up their goods at any given ParcelHub which are located across Malaysia. For sellers who wish to store their large amount of goods, they can head straight to FMX warehouse and FMX will assist in packing and delivering their goods once the order is confirmed. The partnership also ensures next day delivery service if orders from customers are confirmed before 2.00PM.
In total, FMX has a ready fleet of more than 1000 trucks, vans and bikes that does not only cover
Malaysia, but also has the ability to reach 193 countries worldwide and deliver operational
excellence. Moreover, FMX has more than 30 hubs, 150 retail outlets, and more than 1000 pickup and drop-off points nationwide. With this unique and strong logistic coverage across Malaysia,
FMX can reach more people especially to communities in rural areas. It is a service that not only
benefits sellers, but it also allows consumers to not have to worry about the delivery of their
purchases.
By introducing this FeF service, one of the benefits that sellers can gain is the shortest lead time
with a reasonable cost (cost efficiency). It is cost saving as FMX team will handle all the packing,
delivery, and immediate shipment once the order is confirmed with seamless and hassle-free
service.
Using the Presto app, SME sellers are now able to migrate their offline business to online platform
which will allow them to generate more sales, improve buyer satisfaction, and will be able to bring
their businesses to the next level.
Presto is one of the largest e-commerce marketplace in the country with a database of more than
10 million users. With its extensive reach, it's an excessive platform where SME sellers can
market and sell their goods and reach a larger group of consumers and new potential buyers.
Through Presto, sellers can enjoy greater visibility and pay more attention to market their goods,
as all the operational and backend services will be handled by both Presto and FMX. Its strong
network with e-wallet partners, credit card, loyalty partners and bank partners for cashless and
contactless payment methods makes it even more appealing.

SME sellers can also be assured that with Presto's vast experience in digital marketing, they will
gain better visibility and reach.
Buyers and consumers will benefit from this partnership, as they will receive their orders in a much
'Faster, Cooler and Richer digital experience' manner and will have accessible pick-up or dropoff points options made available to them across the country, with the option of returning goods
available.
As home grown regional players with an extensive network of logistics, reliable and professional
services coupled with cutting edge technology, this partnership hopes to explore and introduce
more services in the near future to both consumers and SME sellers that are ready to explore and
evolve on online platforms with the drive to further expand their businesses to greater heights.