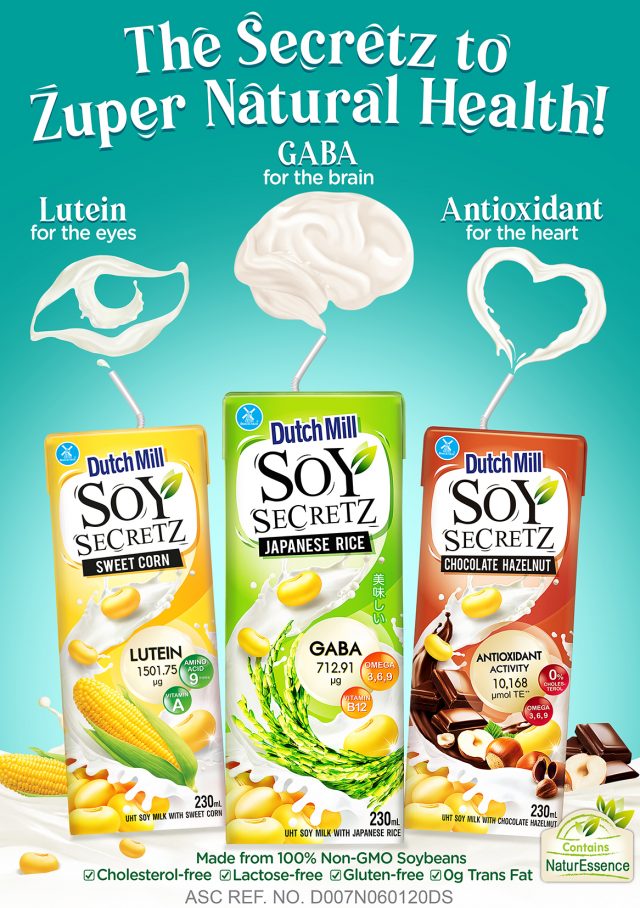 Dutch Mill has rolled out a new range of functional soy bean drink in the Philippines under the Soy Secretz range. Dutch Mill Soy Secretz is available in Japanese Rice that's good for the brain, Sweet Corn that's good for the eyes, and Chocolate Hazelnut that's good for the heart.
Those taking GABA supplements to help in anxiety relief and mood boost may find Dutch Mill Soy Secretz Japanese Rice a new alternative. This healthy drink is a good source of GABA, helping reduce stress, increase relaxation, and enhance long-term memory and B12. Talk about a delicious (and nutritious) upgrade.
Equally enticing, the Dutch Mill Soy Secretz Sweet Corn is made with Lutein and Vitamin A to help maintain good eyesight or improve it further. Those working in their computers all day may find this beneficial!
Lastly, the Dutch Mill Soy Secretz Chocolate Hazelnut is made with Antioxidants and Omega 3, 6, 9. It keeps the heart in check while replenishing the body in the hottest days!
Dutch Mill Soy Secretz is available at PHP 20 in supermarkets and PHP 25 in convenience stores—indeed, it's both zulit and zarap! It is the newest innovation by Dutch Mill, a favorite among the health-conscious for its flavorful yet affordable Dutch Mill Yoghurt Drink and Dutch Mill Delight Probiotic Drink.