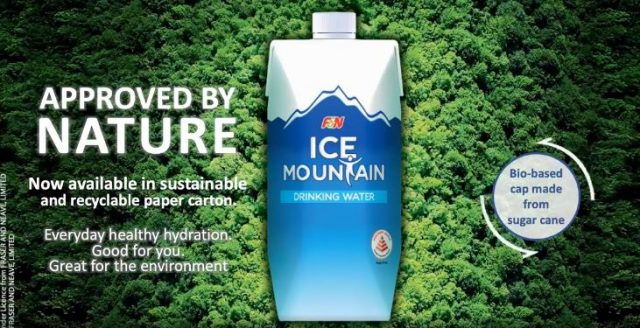 In line with consumer growing interest in sustainable packaging, F&N in Malaysia has introduced F&N Ice Mountain Drinking Water in sustainable and recyclable paper carton. The carton uses bio-based cap made from sugar cane. The drinking water in carton gives consumers the option to stay hydrated in a new and environmentally sounder way.
The F&N Ice Mountain Drinking Water uses Tetra Pak Tetra Prisma Aseptic. At 7-Eleven, this drink is priced at RM 2.90 for a 500ml unit, which is significantly more expensive than a 600ml private label 7-Eleven branded purified drinking water in plastic priced at RM 1.60.
We have now seen big corporations like F&N launching drinking water in carton and this will help accelerate the pace of companies adopting more sustainable packaging including label-free pack.