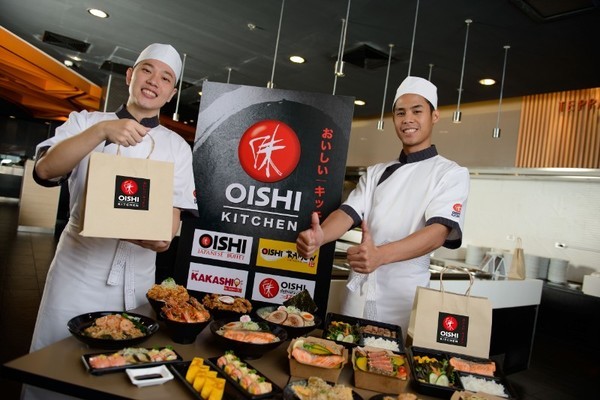 Bangkok–26 Aug 2020
"OISHI", a pioneer of Japanese restaurants in Thailand, is revolutionizing the concept of home deliveries by opening its first cloud kitchen – the "OISHI KITCHEN". This concept aims to cater to the tastes of local at-home diners by giving them access to more than 100 dining options from the menus of OISHI's four popular outlets – OISHI Buffet, OISHI Ramen, Kakashi and OISHI Delivery.
Paisarn Aowsathaporn, the Executive Vice President, Food Business, OISHI Group PLC. said the cloud kitchen is a new business model that is fast becoming popular in the food industry and related businesses. This is because social distance outbreak has changed consumer lifestyles, and with social distancing measures in place, people tend to dine out less or not at all, preferring to order home deliveries instead.
"Thanks to this trend, newer and wider marketing opportunities have opened up, and we at OISHI are moving forward in further developing our services and creating a new business model, namely the cloud 'OISHI KITCHEN'. This will be a hub or central kitchen where food is prepared under strict hygiene and safety measures for OISHI's Japanese chain restaurants, namely OISHI Buffet, OISHI Ramen, Kakashi and OISHI Delivery. This kitchen also provides a vast variety of healthy Japanese dishes for sale through online channels such as food delivery applications. Consumers can order a combination of dishes from more than one restaurant at the same time," Paisarn added.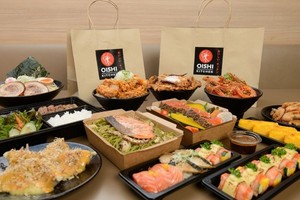 "OISHI Kitchen" has been developed especially to allow consumers to opt for healthy choices when dining from home as well as to give them a large range of dishes by putting together the menus of OISHI Buffet, OISHI Ramen, Kakashi and OISHI Delivery. Consumers can pick from the menus of the four outlets and combine them in one order via food-delivery apps like foodpanda, GrabFood and LINE MAN from today onwards.
The first "OISHI Kitchen" has already opened its doors at Big C Extra on Rama IV Road in the kitchen area of the OISHI Buffet outlet. This is considered a strategic location as there are many office buildings, educational institutes and residences nearby. The company plans to open another five to ten OISHI Kitchens in major Bangkok communities by 2021.
"Continuous and consistent development of businesses and services is our key strategy. Our aim is to bring new experiences and maximum satisfaction to customers, as well as reinforce the image of OISHI as the 'King of Japanese Food' in Thailand," Paisarn said.