Shah Alam, September 8, 2020 – Packing lunch boxes for the kids, and for ourselves is trending in Malaysia. Preparing delicious and healthy packed lunches can be easy and surprisingly fast. Reach for Ayam Brand™ as the base for a well-balanced and nutritious Bento box, a Japanese-style packed lunch box for meals that look as good as they taste.
These recipes were developed based on the Malaysian Ministry of Health's (MOH) concept of #sukusukuseparuh or 'Quarter-Quarter-Half' to promote healthier eating so children and adults get the nutrients and energy they need to keep going throughout the day.
Tried and tested by the Ayam Brand team, stay-at-home, work from home and non-work from home parents, these recipes are sure-fire hits as part of Bento boxes or as meals by themselves.
The tuna and saba used in these recipes are oily fish, high in protein, calcium, Omega-3 and DHA helping to give children the nutrition they need. Get creative and add other ingredients to these recipes to make them your own.
Here are some tips if you are new to packing Bento boxes:
Kids love visually appealing food, so make it colorful.

Add kid-favorites: sweet corn, tomatoes, peas, carrots into mains for more fiber

Add a fruit or a small salad to the lunch box.

Bite-sized is better. For sandwiches, cut them into triangles or rectangles or form into rolls and slice. For rice, form into balls or use cutters to create cute shapes.

The Bento will be eaten at room temperature 3 to 4 hours after preparation. Always pack cooked food, except for fruit and salads

Wash and dry fruits and vegetables before including in the lunch box

Include cutlery and wet wipes, because kids may forget to wash hands before they eat
Tuna Bergerdil Burger
Tuna and potatoes patty between a burger bun equals an instant kids' favourite. Add Tuna Omega 3, coriander, a hint of red chilli, red onion and an egg to mashed potatoes. Form patties, lightly fry them until browned on both sides. Split burger bun, add a bed of lettuce and a dollop of tomato ketchup (if desired), cover with the other half of the bun, and place in the Bento box. Decorate with more lettuce.
Pro tip: Lettuce leaves keeps the burger from getting soggy, so no butter required. Cut a full-sized burger into half to make it more manageable for little hands.
Prep time: 5 minutes    Cook time: 10 minutes    Servings : 3
Tuna and Corn Pasta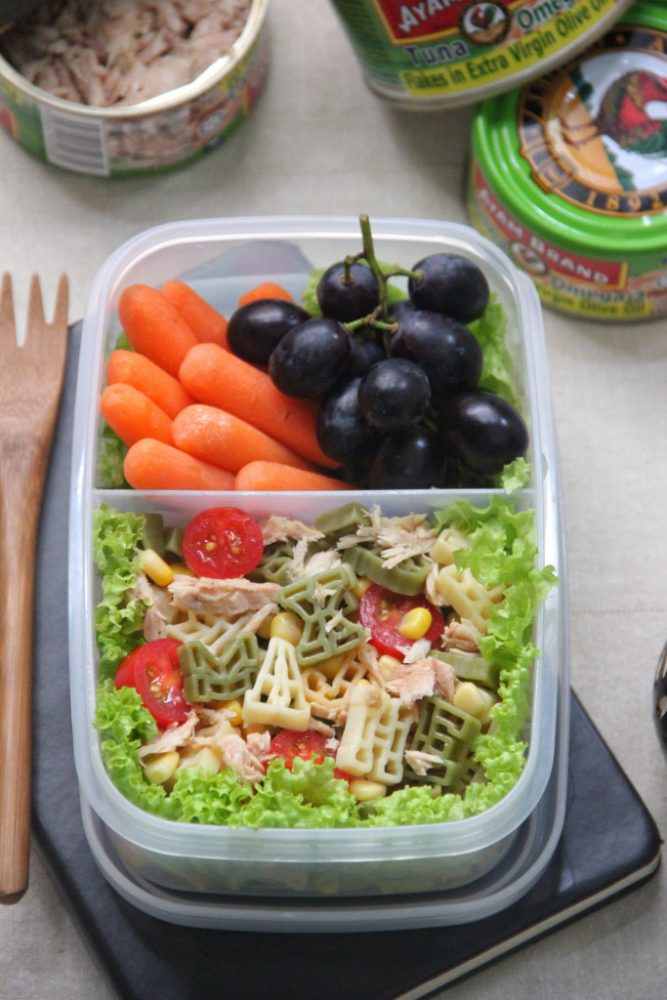 Cook pasta according to instructions on pack. In a bowl combine the cooked and drained pasta with Ayam Brand Tuna in Omega 3, lemon juice, cherry tomatoes, and Ayam Brand Cup Corn until well-coated. Portion into Bento boxes, including yours. It really is that easy.
Pro tip: Cook pasta the night before, drain, refrigerate and heat in the microwave before combining with the sauce to save more time. Add cubed cucumbers, sliced celery or shredded carrots for more fibre, texture and visual appeal.
Prep time: 5 minutes    Cook time: 10 minutes    Servings : 2
Sushi Roll Saba Mayo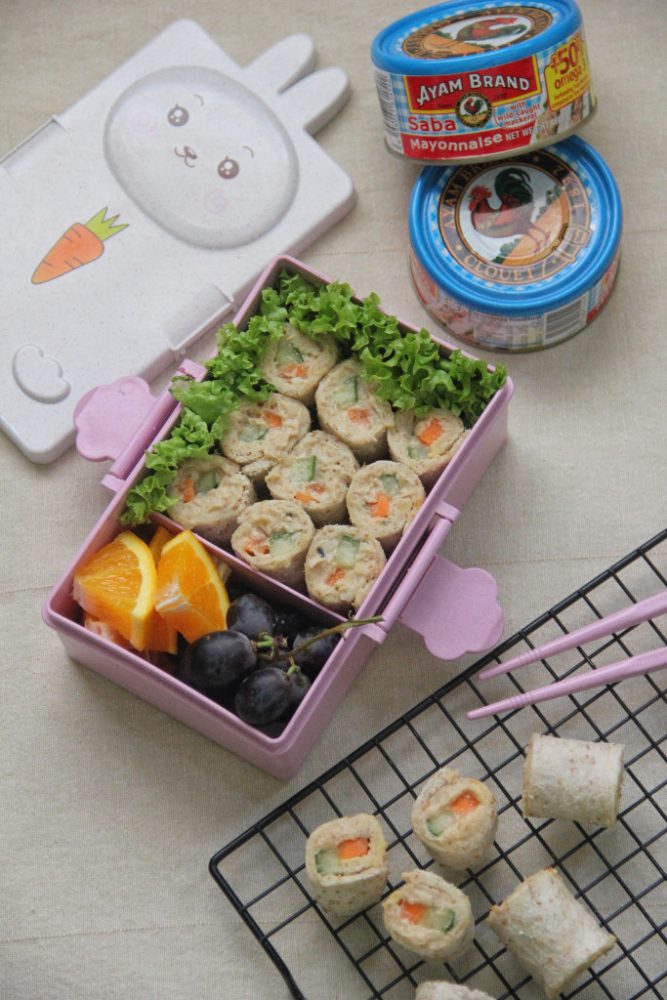 Kids love sushi because it is fun to eat. This recipe uses sandwich bread to replace the Japanese rice for amazingly colourful, nutritious and pretty sushi rolls.
Cut the crust off sandwich bread. Flatten bread with a rolling pin, load on the Ayam Brand Saba Mayonnaise, add a layer of shredded carrots and roll up tightly. Cut carefully with a sharp knife to see clearly defined layers to the roll. Arrange on a bed of lettuce in the Bento Box, and it is done.
Pro tip: Shredded cucumber works if you are out of carrots. If you have nori sheets, place the flattened sandwich on the seaweed sheet and then roll up.
Toast the cut off crust, dip them into the saba mayo for a mid-day snack for yourself.
Prep time: 5 minutes    Cook time: 5 minutes    Servings : 1
Tuna Fried Rice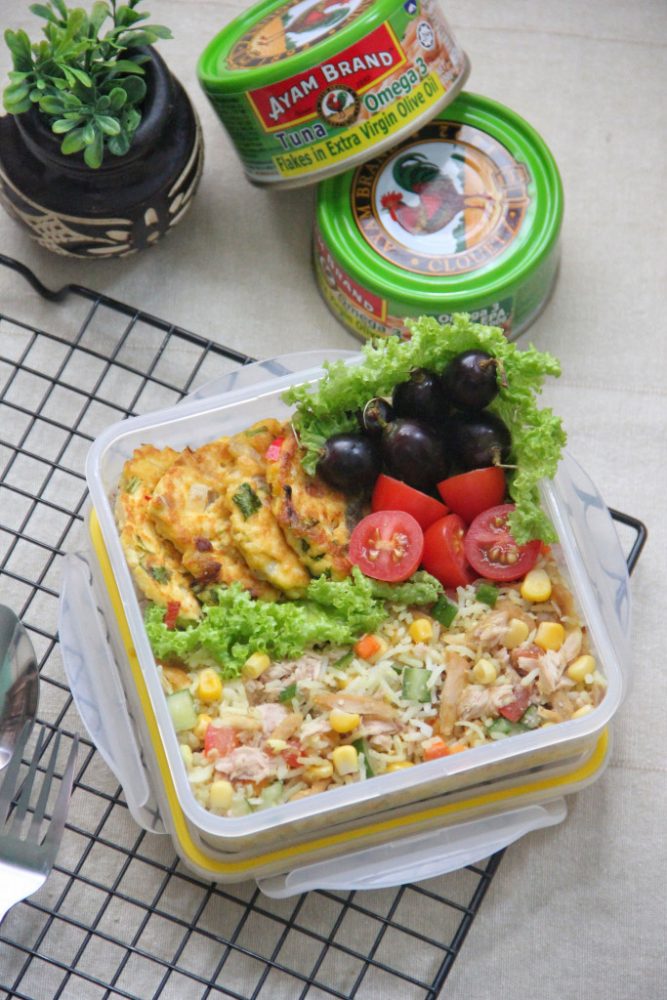 Fried rice is the Asian parents' go-to for lunch boxes as almost every family has leftover rice in the fridge. Here's a quick and simple fried rice recipe that taste great by itself, and pairs beautifully with Tuna Egg Patties.
Lightly fry garlic and carrots, add cooked rice and soy sauce, and mix thoroughly. Then add Ayam Brand Tuna Chunks in Water for protein, and Ayam Brand Sweet Cup Corn for fiber, sweetness and crunch. So fast and tasty. 
Prep time: 5 minutes    Cook time: 10 minutes    Servings : 2
Mayo-free Tuna Pita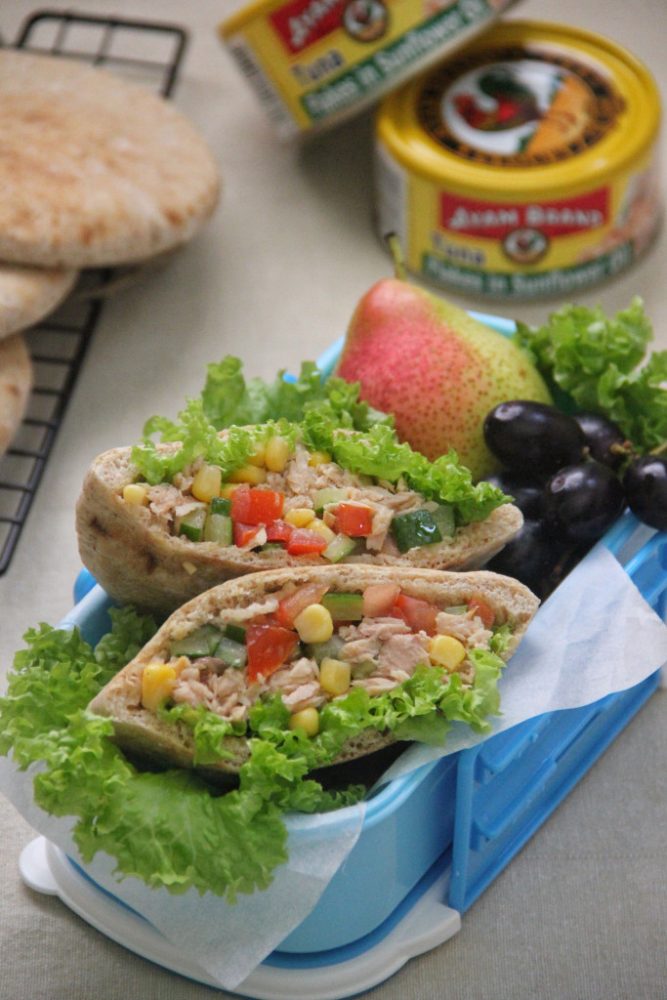 Pita pockets are super easy for children to eat as the filling doesn't fall out like it does from a loaded sandwich.  Try this mayo-free alternative as a quick and tasty Bento Box essential.
Combine Ayam Brand Tuna Flakes in Sunflower Oil,  Ayam Brand Sweet Cup Corn, and cherry tomatoes to make the filling. Cut the pita bread in half, line with lettuce or mixed salad leaves, and cucumbers. Finally add the tuna mix. Well-balanced and delicious.
Pro tip: The lettuce or mixed salad keeps the pita from becoming soggy.
Prep time: 5 minutes    Cook time: 5 minutes    Servings : 2
Tuna Egg Patties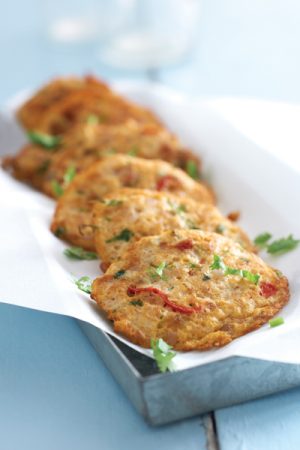 These egg patties are packed with protein, and pair perfectly with Tuna fried rice. Mix Ayam Brand Tuna Omega 3, eggs, soft tofu, coriander, red chilli and red onion, and pour the mixture on to a flat plan to form small patties. Fry until cooked through. Pack into a Bento box with fried rice.
Pro tip: Decorate with ketchup smiley faces for more kawaii!
Prep time: 5 minutes    Cook time: 10 minutes    Servings : 2
Follow @ayambrandmy and use the hashtag #bekalayambrand and #ayambrandmy with your Bento box creations that use any Ayam Brand products. Stand a chance to win exciting prizes! Contest ends 31 October 2020.
Explore more quick, easy delicious recipes from Ayam Brand at  https://www.ayambrand.com.my/index.php/recipes , Facebook page https://www.facebook.com/ayambrandmalaysia and via Instagram  at  https://www.instagram.com/ayambrandmy/ to add more options to your little ones' healthy food adventures. Stay safe and stay healthy.