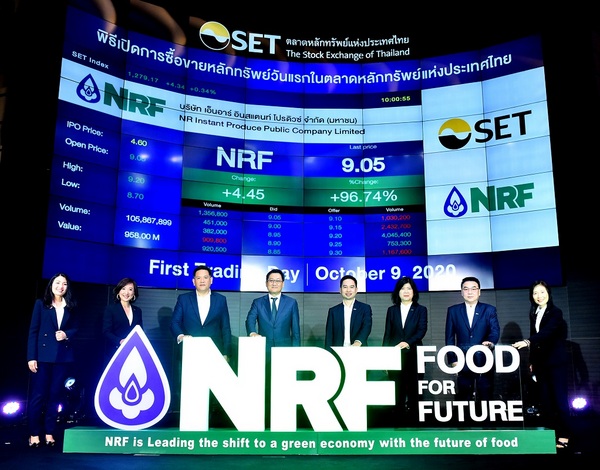 NR Instant Produce (NRF), the Thai company, which has just listed on the SET, said it will will concentrate on Thai food and ethnic food, plant-based food, and consumer-friendly functional products, according to the press release.
NRF is the manufacturer, procurer and distributor of condiments, processed food, ingredients, vegan food without eggs and dairy ingredients, protein-based food, ready-to-cook and ready-to-eat food and drinks in the forms of powder mix and liquid, as well as non-food consumer products contained in V-shape packages.
Following the listing on the SET, the Company plans to increase its outlay in 2020-2022 with no less than 1,068 million baht in investment, divided into 270 million baht in the ethnic food group through the increase in manufacturing capacity and improvement in the Company's manufacturing process, and that of City Food's that will help to increase production by about 35 percent from today's 19,000 tons per year, as well as the plan to buy the remaining 85 percent shares in City Food Company Limited, where the Company has already invested 15 percent of registered capital. This company has its manufacturing facilities in Nakhon Pathom and Ratchaburi provinces.
The investment in the plant-based food business group will involve a budget of 408 million baht divided into the construction of a plant-based food manufacturing plant in Thailand, the procurement of plant-based manufacturing plants in the United Kingdom and the United States through a joint venture with The Brecks Company Limited (Brecks) to set up Plant and Bean Limited in England.
At present, NRF holds 25 percent of this venture and plans to increase the share in the company by another 25 percent to 50 percent in 2021.
NRF will also invest in the second production line for konnyaku to increase production capacity that is expected to ramp up production in Q4/2020.