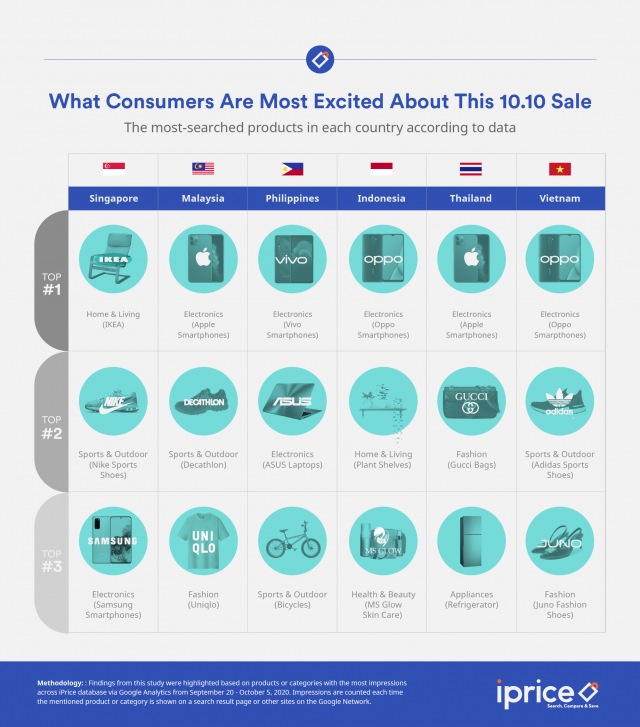 The latter part of the online sales period is just around the corner and it is expected to be the biggest one yet. With COVID-19 sending people to shop online more than ever this year, 10.10 is likely to be an explosive beginning of the end-of-the-year sales.
In line with this upcoming event, iPrice Group determined the top 3 products/categories with the most Google impressions in each of the e-Commerce aggregator's Southeast Asian platforms during the hype of the 10.10 sale. Based on Google trends' data, the hype period is between September 20 to October 5, 2020 as big e-Commerce giants like Shopee, Lazada, Zalora, Bukalapak, and more promote their respective year-end sales.
Here are the most interesting insights from the study:
All countries, except Singapore, are most excited about electronics.
Smartphones are dominating the top searches in each market. Interestingly enough, however, Apple smartphones are popular only in Thailand and Malaysia, while Android phones are the most popular in the rest of the countries.
Singapore is the least excited about smartphones, as Home & Living, specifically IKEA products, dominate their top searches. But smartphones still fall in number three of the city-state's most-searched products.
In the Philippines, two of their top searches fall in the electronics category as Asus laptops come in second to Vivo smartphones.
There seems to be a gardening fad in Indonesia.
With recent reports on plant-purchasing trends in other areas of the world, Indonesia seems to be in on the fad as its second most-searched items are plant shelves. As mentioned in one of the reports, people want to start feeling good about staying at home. Hence, they are adding green into their homes.
Not to mention that gardening can be quite a therapeutic hobby to pick up during a pandemic.
Sports & Outdoor products are sought-after in Singapore, Malaysia, the Philippines, and Vietnam.
2020 must be the year that people spent a lot of their time indoors. Given that, Singaporeans, Malaysians, Filipinos, and the Vietnamese must be looking for alternative ways of exercising because of the full or partial closure of gyms/sports facilities due to COVID-19.
Singaporeans and the Vietnamese seem to be on the lookout for sports shoes (Nike and Adidas), while Malaysians are searching for sweet deals on Decathlon, as they haven't been on complete lockdown for quite some time now.
Filipinos are searching specifically for bicycles, which backs up recent data on how Filipino's interest in bicycles is spiking in 2020 due to the country's restrictions on mass transportation.
Fashion items remain of interest for half of the markets (Thailand, Vietnam, and Malaysia).
Will people still be able to dress-to-impress during a pandemic? Evidently in those countries that have contained the virus and are on looser social distancing measures.
Thailand seems to be back to flaunting Gucci bags as they've been reported to contain the virus well, while their Vietnamese neighbors, who are experiencing the same success with the virus, have been looking for Juno fashion shoes.
Meanwhile, despite the recent spike of cases in East Malaysia, residents in non-red zone areas of Malaysia are still out and about. This may explain why Malaysians are also excited for Uniqlo products this coming 10.10, aside from its recent release of Airism masks in the country.
Methodology
Findings from this study were highlighted based on products or categories with the most impressions across iPrice database via Google Analytics from September 20 – October 5, 2020. Impressions are counted each time the mentioned product or category is shown on a search result page or other sites on the Google Network.
About iPrice Group
iPrice Group is a meta-search website operating in seven countries across Southeast Asia namely; Malaysia, Singapore, Indonesia, Thailand, Philippines, Vietnam, and Hong Kong. Currently, iPrice compares and catalogues more than 5 billion and receives about 20-30 million monthly visits across the region. iPrice currently operates three business lines: price comparison for electronics and health & beauty; product discovery for fashion and home & living; and coupons across all verticals.