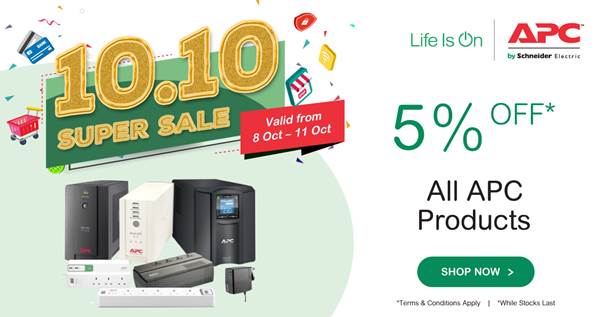 APC by Schneider Electric offers premium protection of your precious devices – now on sale at Lazada and Shopee from now until 10th October and beyond

Get 5% off on all APC by Schneider Electric products
PETALING JAYA, October 8, 2020 – Enjoying all the new devices that you bought from the last shopping spree? Now it's time to ensure they receive the best protection against power outages, surges and spikes. Keep the gadgets you love safe with the range of power protection devices from APC by Schneider Electric!
Schneider Electric, the worldwide leader in power protection for more than 30 years is back with another round of super sales on Lazada and Shopee for its range of APC by Schneider Electric solutions – happening now until 10th October and beyond. You can enjoy up to RM100 of instant vouchers on selected products and more.
Not sure where to start? These scenarios can help you decide how you can maximise these awesome deals:
Your job requires you to be always on. This means you need to ensure that your bosses, wherever they may be, are able to reach out to you and connect with you on work matters – especially now that working from home has become a common practice. As a result of these requirements, you are always prepared with your power bank, extra chargers and batteries. You also believe in overpreparing for any occasion including the possibility of power outages that lasts beyond your power banks and batteries. In these instances, you will need an Uninterrupted Power Supply (UPS) solution near you, to ensure that your valuable work and important documents can be saved and will never be lost.
Gaming is your escape from reality. At the end of a busy day, you unwind by connecting with your friends and completing missions on your favourite online game. The best feeling is knowing you and your team are on the final stages of defeating the enemy in a ranked game, until your connection is cut off or your device is shut down because of a sudden power loss. This is the only reason you need to get your hands on a Back UPS Pro solution to protect and keep your devices running.
They say lightning never strikes the same place twice. In reality, this is not the case for you, especially during thunderstorms and rainy seasons. As a regular or even heavy user of electronic devices, you are constantly worrying that these gadgets possibly get damaged due to lighting. If this is you, time to invest in a surge protection solution for your computers and electronics.
Protect your Devices and your Home
APC by Schneider Electric solutions are designed to protect devices against downtime, data loss and hardware damage that happens due to power problems. They set the standard for premium quality and advanced innovation in power protection solutions. Their comprehensive solutions, which are designed for both home and corporate environments, improve the manageability, availability and performance of sensitive electronic, network, communications and industrial equipment of all sizes.
So, don't miss these amazing deals!
Product

Models

RRP

Instant Voucher (MYR)

Back UPS Pro BR Series

For backup power during electrical failure

RM 1,051
RM 1,259

50

RM 2,009

RM 2,249

80

BR1200SI

BR1600SI

BY1500GI

RM 2,109

RM 2,249

RM 2,499

100

Easy UPS SMV Series

Provides you with protection during unstable power condition

RM 1,039
RM 1,319

50

RM 1,829

80

SMV2000AI-MS

SMV3000AI-MS

RM 2,169

RM 2,859

100

Essential SurgeArrest

Basic protection against power surges for your electronical devices

RM 250

RM 230

10
Hurry! Grab these amazing solutions now from the official Schneider Electric store on Lazada and Shopee![2]
For more information on Schneider Electric and its latest innovative products, visit Schneider Electric's official website and at https://www.se.com/my/en/.
You can also get other exciting updates when you follow Schneider Electric's official Facebook page at https://www.facebook.com/SchneiderElectricMY/