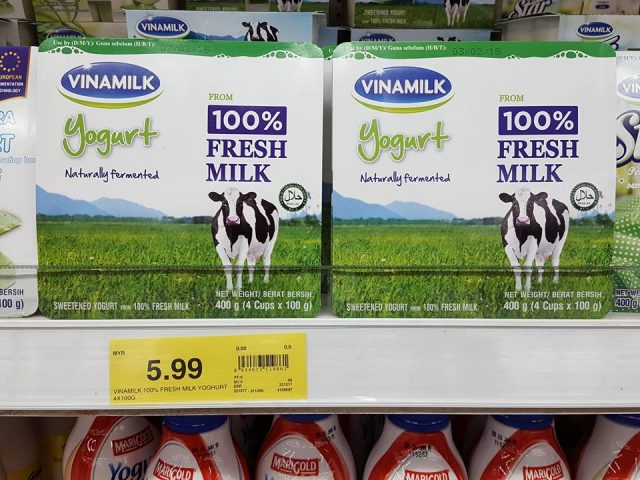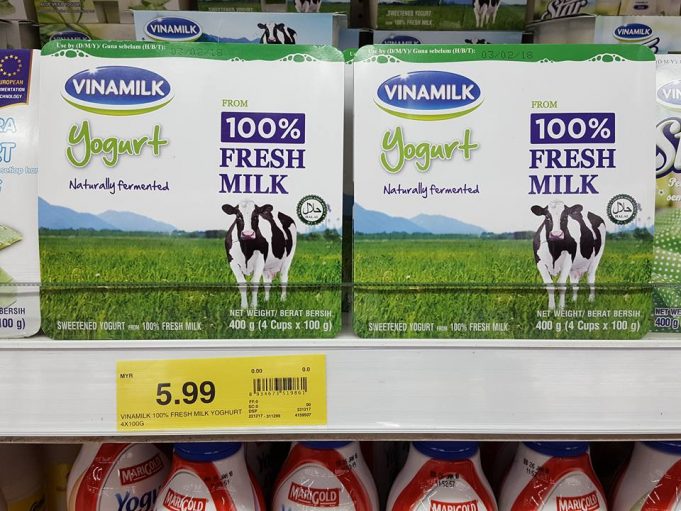 Vietnam's Vinamilk's yogurts have reappeared in Malaysia with a brand new packaging following an initial trial in early 2017. The new packaging comes in English and Malay with a prominent halal logo on the front to assuage Muslim consumers in Malaysia where 62% of the population are Muslims that the yoghurts are safe to consume.
Solving brand visibility issue
The relaunched Vinamilk features a paper wrap that effectively solves the issue of brand visibility and communication. The former packaging does not have product description on the side of the cup, which makes it hard to catch the attention of shoppers unless the four-pack format is tilted. In addition to that, the previous packaging was mainly in Vietnamese.
Local language and prominent halal logo
Now, DS Borneo Trading Sdn Bhd, the importer and distributor of Vinamilk in Malaysia, has solved this issue by coming up with a paper wrap in English and Malay with a prominent halal logo on the front pack. The halal logo is granted by the Halal Certification Agency Vietnam (HCA), a foreign certification body officially recognised by Malaysia's JAKIM.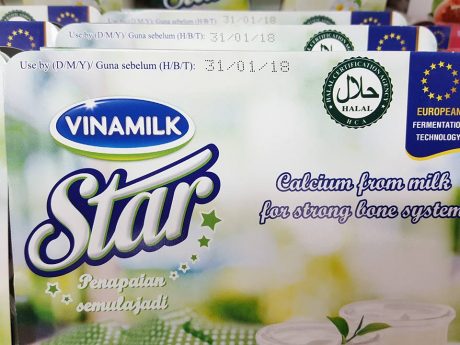 Below is the image of the redesigned Vinamilk yogurts in Giant Supermarket featuring the use of English and Malay to communicate the product features more easily to Malaysian consumers.
Below was the original packaging fully imported from Vietnam on display in Giant Supermarket in March 2017.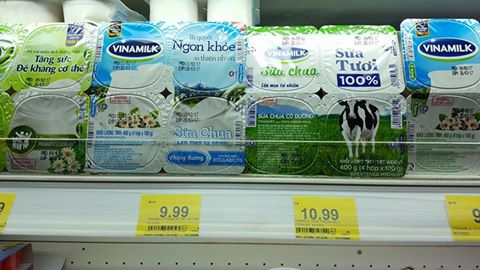 The back of the new pack contains the description of the ingredients in English and Malay.
More reasonable prices
The prices have been reduced to bring them down to a more reasonable level. For example, Vinamilk Star (4x100g) was previously sold at a price of RM 9.99. Now, it is available for a much lower price of RM 4.79.

The 5 flavours of Vinamilk yoghurt are available in Giant supermarkets across Peninsula Malaysia and Kuching in east Malaysia.
UHT milk in the pipeline
DS Borneo told the author during MIFB 2017 in August 2017 that it has plans to introduce Vinamilk's UHT milk and yogurt drink into the Malaysian market in the future.
What Mini Me thinks
As Vinamilk embarks on an international expansion, it is crucial to pursue the localisation strategy when it comes to brand communication especially as Vinamilk is relatively unknown in Malaysia.