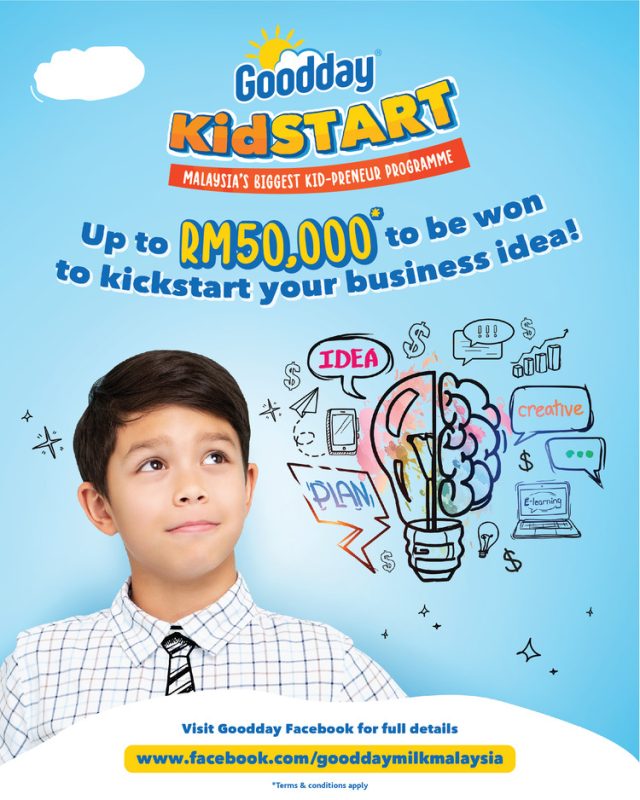 With Goodday KidSTART, Goodday Milk aims to empower the next generation with a solid foundation to build their business dreams while cultivating good financial habits and critical life skills.
20th November 2022, KUALA LUMPUR – In conjunction with World Children's Day, Goodday Milk is proud to launch Goodday KidSTART, Malaysia's largest-ever kid-preneur programme aimed at catapulting the business dreams of bright, savvy and passionate children between ages 7 and 14.
Whether it's through a nutritious range of products or meaningful initiatives, one of Goodday Milk's focus has always been on bringing goodness and enriching the lives of children. In 2021, Goodday Milk initiated the "Happee PPE Campaign", which saw kids all over Malaysia design joyful new looks to the otherwise mundane-looking Personal Protective Equipment (PPE) worn by frontliners, treating their peers hospitalised with Covid-19. The winners were each awarded an RM10,000 education fund with their designs printed on 10,000 units of PPE's.
This year, with Goodday KidSTART, Goodday Milk wants to continue their commitment towards the community and children by bringing goodness to them in the form of financial literacy through the path of entrepreneurship.
At a glance in the region, 30%* of parents start teaching their children about money at the average age of 7-10 years, with 36%* of Malaysian parents beginning as early as 5-6 years old*. While it is an encouraging number, many parents are still unsure how to approach what is considered a sensitive topic in Asian culture or where to find helpful information. Additionally, surveys showed that most parents believe that someone else is teaching their children about money and finance, with 80%** assuming it is a part of the school syllabus.
Statistics also show that during the recent Covid-19 pandemic, 53%*** of adults admitted to being unable to support their families. The pandemic has undoubtedly shown us that sound and sensible financial understanding is needed to weather the toughest storms.
Another survey by the Securities Commission Malaysia**** found that Malaysian youths are generally unable to manage their finances well, with most having low financial literacy*. Many also prioritised short-term financial goals and spend beyond their means, resulting in debts. This lack of awareness highlights an ever-growing need for parents and kids to start discussing good financial habits, especially from a young age. This will ensure that children have the knowledge they need to be sustainable in the future.
Amy Gan, VP of Marketing, says, "At Goodday Milk, we want to equip children with the right knowledge to develop strong money habits early on as this will ensure them a financially secure future. By instilling confidence and imparting skills required to fuel a child's entrepreneurial spirit, we are teaching our future-driven generation to understand the concept of money so they can make responsible financial decisions.
She added, "We urge parents all over Malaysia to encourage their child's participation and
take this opportunity to showcase their talent and potential with the hopes of becoming
Malaysia's first Goodday KidSTART kid-preneur!"
Submissions for the Goodday KidSTART programme are open from 21st November 2022
to 23rd December 2022, and parents are invited to send a short video of their children's
pitch to Susu Gooday via Facebook direct messaging https://www.facebook.com/gooddaymilkmalaysia or GooddayMilk via Instagram's direct
messaging @gooddaymilkmy
The video should consist of three parts;
1. An introduction
2. Their inspiration to start a business
3. The quick elevator pitch of their idea
Following the five-week submission period and shortlisting process, 20 finalists will advance to the next stage to attend a 2-day intensive boot camp in January 2023. Children will be mentored and taught the necessary skills and abilities to successfully pitch their ideas to a panel of judges ranging from business entrepreneurs to captains of industry.
Prizes of up to RM50,000 await the winners of the Goodday KidSTART kid-preneurs to
bring their business ideas to life!
The Goodday KidSTART kid-preneur programme runs from 21st November 2022 to 8th
January 2023. For more information, visit www.facebook.com/gooddaymilkmalaysia.
***:https://www.econstor.eu/bitstream/10419/248673/1/full-5.pdf
****Securities Commision of Malaysia "Youth Capital Market Survey A Malaysian Perspective 2022"