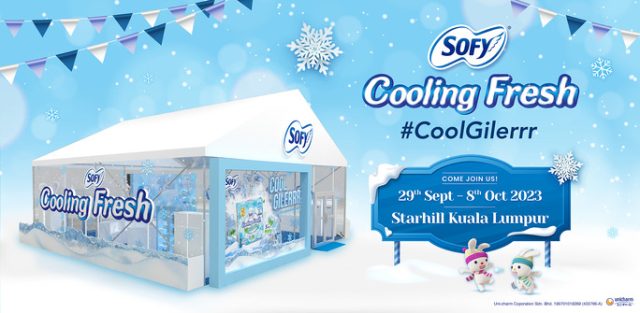 Be part of the SOFY Cooling Fresh #CoolGilerrr Pop-up Event from 29 September to 8 October to witness the innovation and five senses consumer engagements
KUALA LUMPUR, MALAYSIA, 29 September 2023 — SOFY, a No.1 Sanitary Pad Brand from Japan partners with Watsons to introduce the #CoolGilerrr campaign to support Malaysian women beat period heat with the SOFY Cooling Fresh sanitary pads range.
In collaboration with Asia's leading health and beauty retailer, Watsons, SOFY is organising the SOFY Cooling Fresh #CoolGilerrr pop-up event which is a unique initiative aimed at empowering women to stay refreshed throughout their day, without any discomfort. The pop-up event is open to the public and will be held at the Starhill Kuala Lumpur, from 29 September to 8 October from 10am till 10pm. This pop-up event promises to be a true celebration of women's health and comfort, featuring interactive displays and the opportunity to experience the revolutionary SOFY Cooling Fresh first-hand. Members of the public are welcome to join SOFY for a day of empowerment and discover how SOFY is transforming how women experience their periods. There will also be opportunities to redeem a complimentary soft serve ice cream, enjoy some of SOFY's special promotions and participate in meaningful donation program
Ms. Amanda Wong Yoke Pui, Senior Brand Manager of SOFY Malaysia & Singapore, said, "SOFY Cooling Fresh Pads represent a leap forward in menstrual comfort. Ever since the launch of the First Ever Cooling Fresh pad range in 2018, we continuously strived to improve our products and ensure that women feel fresh, comfortable, and confident in every aspect of their lives. At SOFY, we aim to provide a refreshing, confidence-boosting experience, even in the most demanding weather conditions. "
"According to our yearly usage and attitude study, 7 out of 10 women experience rash or skin irritation during period. This is especially apparent amongst younger girls who tend to wear sanitary pads for longer hours. Our SOFY Cooling Fresh range are meant to address the Malaysian heat challenges, " Ms. Amanda Wong elaborated.
First introduced in 2018, SOFY Cooling Fresh is designed to provide up to five (5) hours of Minty Cool Sensation across a diverse selection of products ranging from Day to Night, Maxi to Ultra Slim, helping women beat the inevitable Malaysian heat during their periods. It also further expands its product line up with Natural Cucumber range in October 2022 to cater the consumer who wish would soothe her skin with mild cool sensation.
Product Highlight
SOFY® Cooling Fresh (Mint) – 5 Hours Minty Cool Sensation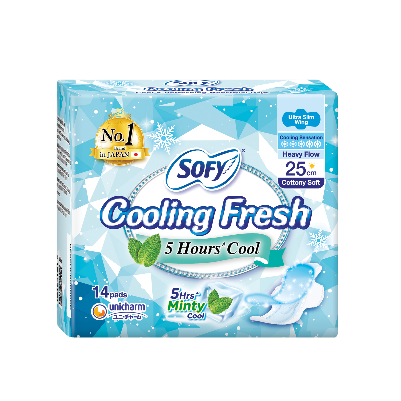 Topped with Cool Mint Sheet, SOFY® Cooling Fresh (Mint) provides up to 5 Hours Minty Cool Sensation, which helps calm heat rash and allow women to feel refreshed until the next pad change.
In addition, the pads contain Natural Plant Essential Oils, which can effectively prevent odours and provide an enduring sense of freshness. The pads are also Hypoallergenic and Dermatologically Tested, that is safe for all skin types.
COOLING DEGREE: ❄️ ❄️ ❄️ ❄️ ❄️
SOFY® Cooling Fresh (Cucumber) – Sensitive Cool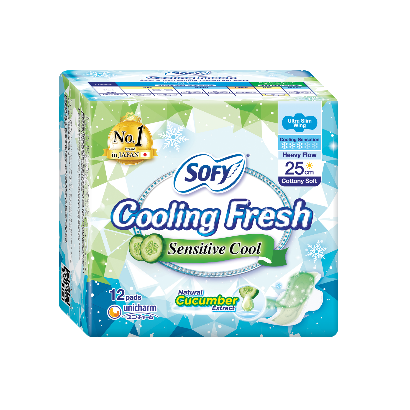 Infused with Natural Cucumber Extracts, the SOFY® Cooling Fresh (Cucumber) provides a mild cool sensation and helps reduce stuffiness, even on sensitive skin types. It is Hypoallergenic and Dermatologically Tested and safe for all skin types. Lastly, Its Ultra Slim design wand superior absorption, allows women to go on about their day with confidence and peace of mind.
COOLING DEGREE: ❄️ ❄️ ❄️
For more information about the SOFY Cooling Fresh, please visit SOFY Official Website (https://my.sofyclub.com/en/home.html) , or log into SOFY's Facebook (https://www.facebook.com/SOFYMalaysia/) or Instagram (https://www.instagram.com/sofymalaysia/)  pages