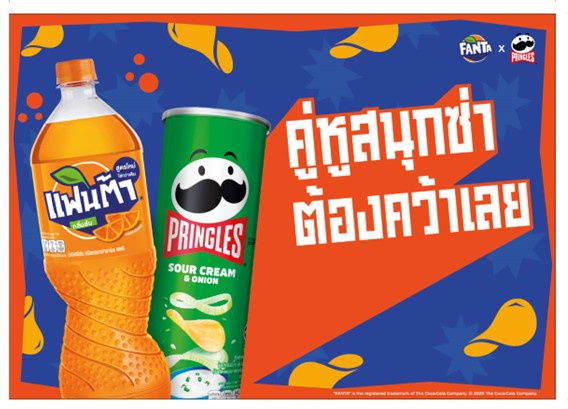 Wednesday 27 September 2023 – 'Fanta', the vibrant and playful brand under the Coca-Cola Thailand beverage portfolio, is once again making waves in the snack industry by teaming up with the renowned brand Pringles, a leading producer of potato chips from the United States.
The launch of the 'Fanta' x Pringles Duo Campaign encourages consumers to participate in entertaining missions and vie for exciting prizes, creating memorable and creative moments. Participants are invited to share their enjoyable and distinctive snack-time stories through social media channels. This campaign highlights the joyful and exhilarating experiences that 'Fanta' offers, combining the refreshing deliciousness of a variety of fruit-flavored carbonated drinks that complement the flavors of snacks perfectly.
Mrs. Richa Singh, Marketing Director, Coca-Cola Thailand, Myanmar, and Laos, said about the partnership: "This collaboration further solidifies 'Fanta' 's reputation as a brand dedicated to fun and consistently delivering exciting experiences to consumers. We are thrilled to join forces with Pringles, the renowned American potato chip brand, which has captured the hearts of people in over 140 countries worldwide. With a constant stream of new flavors tailored to the preferences of each country, including Thailand, there is a wide array of options to entice Gen Z consumers. Furthermore, 'Fanta' and Pringles are uniting to enhance the joy of snacking. By indulging in the delightful combination of these two brands, you can enjoy an uninterrupted snacking experience that promises uniqueness and excitement like never before. Together, this 'Fanta' x Pringles collaboration has the power to transform dull moments into moments of extreme fun throughout the day."
'Fanta' is making a big move to delight Gen Zs by launching engaging gamified activities on social media platforms as part of the 'Fanta' x Pringles Duo Campaign. In collaboration with Pringles, the ChampionCHIP challenge is taking fun to new heights with two exciting missions: capturing moments by snapping photos while enjoying Pringles snacks alongside any flavor or size of 'Fanta' for an irresistibly enjoyable experience; and expressing emotions and sharing the joy by incorporating the snack duo of 'Fanta' and Pringles as central elements, then uploading the missions to social media with the hashtag #ภารกิจคู่ซ่าแฟนต้าคู่พริงเกิลส์ and #FantaTH. These missions will run throughout September and October 2023. To amplify the fun, 'Fanta' is enlisting content creators to join in and enhance the overall experience for consumers throughout the campaign. Participants will have a chance to win exciting prizes, including a voucher for a two-night stay at The Standard Hua Hin (with breakfast), an Instax Mini 12 Polaroid camera, and many more enticing rewards.
'Fanta' is gearing up to assemble a fun-filled army and deploy the dynamic duo, the charming couple 'Off' – Jumpol Adulkittiporn and 'Gun' – Atthaphan Phunsawat at Central Festival Hat Yai on November 11, 2023. This special event offers fans of both 'Off' and 'Gun' an exclusive opportunity to win the coveted title of 'LUCKY FAN' and participate in entertaining games and activities with their beloved actors. Throughout the event, there will be engaging activities at booths for everyone to enjoy, along with numerous exciting prizes to look forward to. Stay tuned for more details!
Indulge in extra 'Snacking Moments' with 'Fanta', the beloved fizzy drink available in four delicious flavors: 'Fanta' Orange, 'Fanta' Grape Pop, , 'Fanta' Strawberry and 'Fanta' Fruit Punch, along with 'Fanta' Sugar-Free variants, all conveniently found at nationwide convenience stores, supermarkets, and hypermarkets, as well as on various e-commerce websites. Share your delightful 'Fanta' snacking experiences with us and stay updated by visiting our official Facebook page: https://www.facebook.com/FantaThailand.