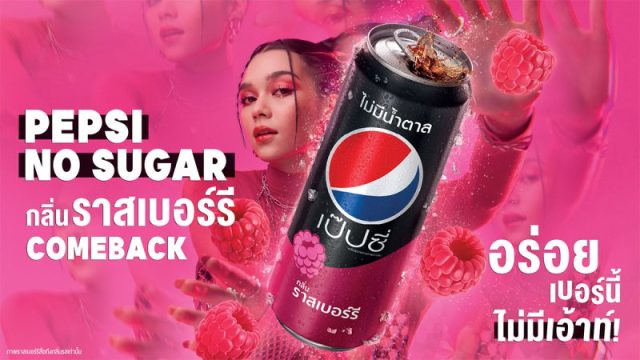 Wednesday 27 September 2023 – Pepsi beverage by Suntory PepsiCo Beverage (Thailand) Company Limited regenerated the Raspberry-flavored fizzy drink pleasure among fashion-forward enthusiasts by reviving the "Pepsi No Sugar Raspberry" flavor variant that is assured to rekindle surprisingly delicious, fruit-flavored Pepsi to beat the heat.
Pepsi No Sugar Raspberry uniquely features a harmonious combination of unexpectedly enchanting and mellow flavor and appealing raspberry-infused aroma while Pepsi's iconic fizzy flavor is still retained.
Pepsi No Sugar Raspberry boasts a perfect mixture between mild sour, slightly sweet, and fascinating raspberry scent for soft drink lovers to fully enjoy the next-generation fruit-flavored Pepsi No Sugar and get freshened up the moment you take your first gulp.
The new raspberry-inspired Pepsi No Sugar comes with captivating pink color packaging to appeal to fashion-focused fans.
It is available at limited production!! It is available for purchase in three sizes: 325-ml can, 345-ml PET bottle, and 550-ml PET bottle. The new Pepsi No Sugar Raspberry is gradually hitting the market. Interested customers can purchase it at all convenience stores, retail and wholesale outlets, supermarkets and leading shopping department stores nationwide.