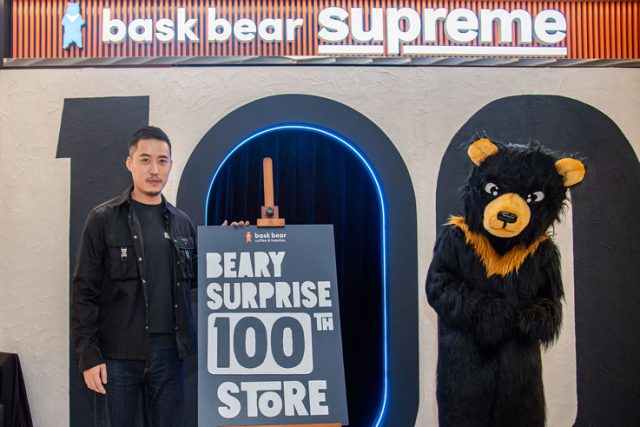 Buy a 'Double Perfection Toastie' & win 1-year free toasties Home-grown innovative brand now brewing from 220 locations
KUALA LUMPUR: A "Bear Paw" serving freshly-brewed coffee through a "bear hole" takes centre stage as Bask Bear Coffee celebrates its 100th physical store milestone at Suria KLCC here on Wednesday (Sept 27).
Customers also get to win prizes at this five-day carnival featuring to a variety of games and activities centred around the Malayan sun bear from which Bask Bear Coffee draws its brand inspiration.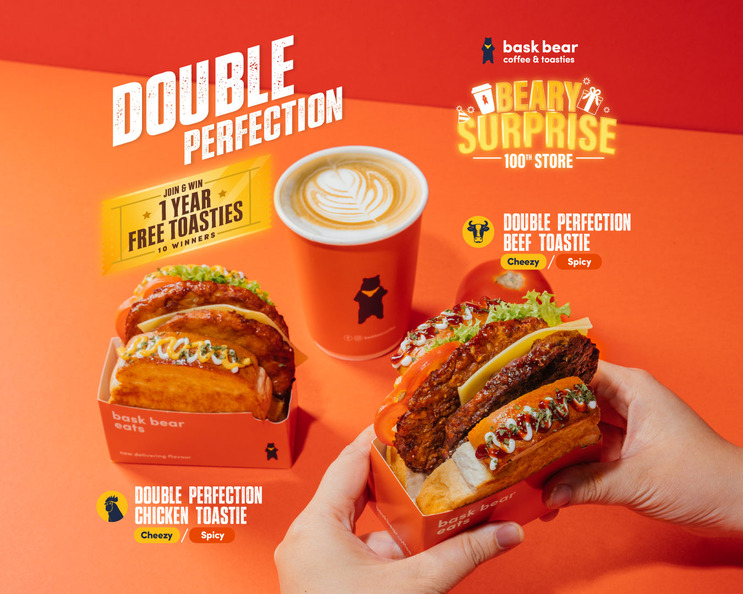 For those who cannot make it to the carnival, they can try their luck at winning a "Golden Ticket" to get a year's supply of toasties by purchasing the Double Perfection Toastie, a special menu item available for a limited time. The Double Perfection Toastie is available at all stores which offer toasties.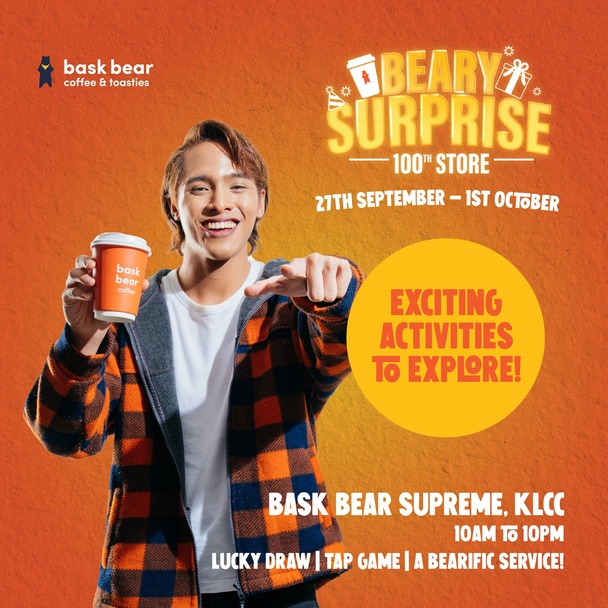 Founder and CEO of Loob Holding Sdn Bhd Bryan Loo said 10 "Golden Tickets" are up for grabs as a way of rewarding customers and thanking them for their continuous support. The contest ends Sept 30.
This carnival marks the successful transformation of this Malaysian innovative coffee disruptor best known for going online during the pandemic lockdown and being the most delivered virtual coffee then.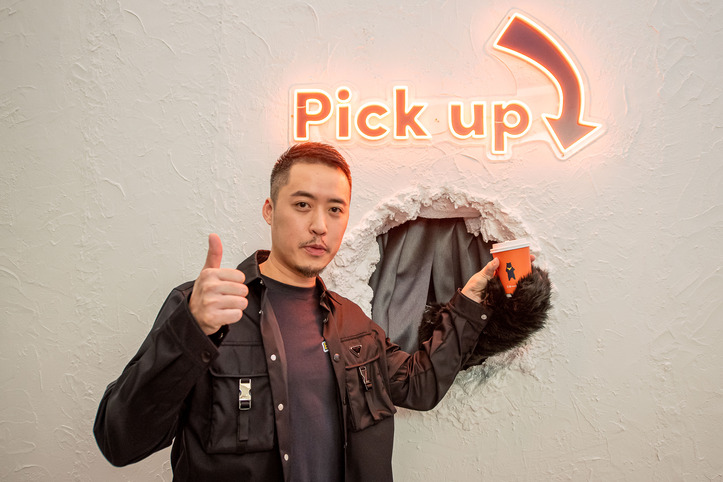 As the only coffee brand inspired by the basking Malayan sun bear, Bask Bear Coffee is spearheading sun bear conservation efforts with its "Save Sun Bear Fund" launched last month to adopt a sun bear at the Bornean Sun Bear Conservation Centre (BSBCC) in Sandakan, Sabah.
As such, it's not a surprise that the carnival ending this Sunday is themed "Beary Surprise" and Bask Bear Coffee will contribute RM1 to BSBCC for each in-store transaction.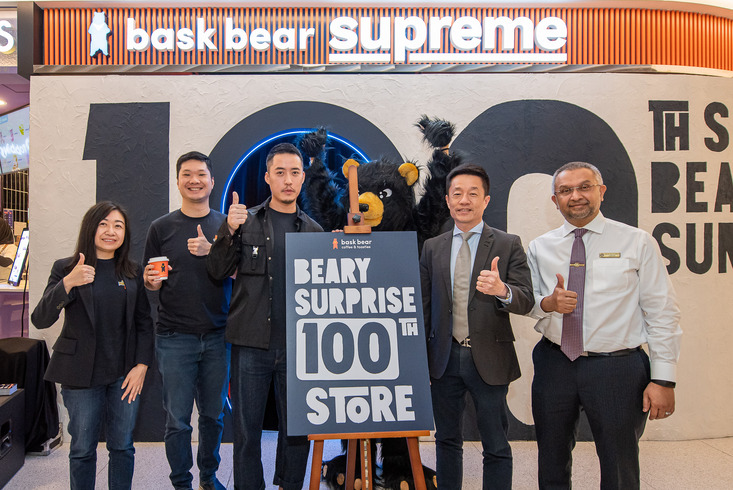 "We are grateful for the support of all our customers for having come thus far. Bask Bear Coffee was introduced just before the pandemic hit Malaysia and we had to quickly transform ourselves into a virtual brand. With the tremendous support of Malaysians, we quickly became the most delivered virtual coffee during the lockdown.
"As we come out of the pandemic, we need to re-focus on having physical stores. Last year, we set our goal to achieve our 100th physical store milestone in the third quarter of this year and we achieved it," he said.
The brand still has 120 virtual stores now so its network is a total of 220 stores combined, he added, including two flagship Bask Bear Supreme outlets.
On sun bear conservation, Loo explained that Bask Bear Coffee's journey extends beyond brewing coffee; it's about brewing a conservation movement, preserving Malaysia's national heritage, and caring for our environment.
The brand had adopted an orphaned sun bear at BSBCC named Tenom and is now raising funds to adopt a second bear. Relating how the first adoption came about, Loo said when news broke that Tenom has been rescued and was being rehabilitated at BSBCC, they immediately reached out and offered to help.
"Having worked closely with BSBCC before, we felt we had to get the message out to all Malaysians that we need to protect our sun bears, not to hunt them or take them home as pets.
"We then felt that there is so much to be done to educate Malaysians about sun bear conservation so we launched a fund to adopt a second bear. This time, it's more to spread awareness that sun bears belong to the forest. Their home is the forest, so we want to shout out to everyone out there: 'Love our sun bear, keep it home – at its home in the forest, not your home or mine'," he quipped.
Bask Bear Coffee has a heritage of close affinity with Borneo as it features a unique Bornean palm sugar called Aren® that is naturally sourced and produced by local farmers in Borneo.
"This exclusive Aren® Palm Sugar supply arrangement with Loob not only enables more consistent income for these farmers but also provides a healthier option with a lower glycaemic index than brown sugar or even honey.
"We're the first coffee brand to infuse this Aren® Palm Sugar, which is well-loved for its delicious savoury sweetness with a tinge of caramel!" he enthused.
Bask Bear Coffee's coffee brewing is not just about the perfect cup; it's about crafting an experience that encompasses sustainability, social responsibility, and a deep appreciation for Malaysia's natural treasures.
In a message for the carnival's fund-raiser, BSBCC founder and CEO Dr Wong Siew Te hoped this campaign would help raise further awareness that sun bears are protected animals.
"The sun bears are symbolic because they represent our ecosystem's health. They're a symbol that our forest ecosystem is thriving.
"We hope the campaigns we do with Bask Bear Coffee will raise awareness that we need to do more for our bears and would encourage others to join our 'Adopt a Sun Bear' campaign," he said.
Loo hoped that Bask Bear Coffee would be an example that business success can go hand-in-hand with heritage conservation and sustainability.
"We wish to show that through our unique approach to coffee brewing and our steadfast dedication to sun bear conservation, Malaysians see us as not just a coffee chain but also a symbol of responsible entrepreneurship and a beacon of hope for the protection of our natural heritage," he said.