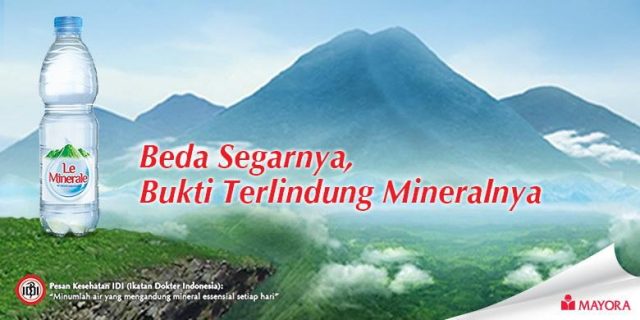 Another Indonesian brand has entered the Philippine fast moving consumer goods (FMCG) industry. This time, Mayora Indah, the producer of Kopiko 3-in-1 coffee, has launched the Le Minerale bottled mineral water to capture a slice of the fast-growing packaged water market.
The Philippines packaged water market is dominated by The Coca-Cola Company (Wilkins), Philippine Spring Water Resources (Nature's Spring) and LT Group (Absolute and Summit). 
Le Minerale was first launched in Indonesia in 2015. In 2016, the bottled water saw its sales volume in Indonesia surging by 283.4% and volume up by 252.5%, according to the data from Nielsen. The strong performance of Le Minerale can be attributed to its low base in 2015.
Mountain mineral water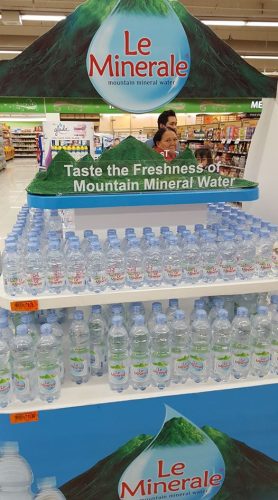 Le Minerale comes with the tagline "taste the freshness of mountain mineral water," the same positioning as the one adopted in the home market in Indonesia. Mountain mineral water is known as "air mineral pegunungan" in Bahasa Indonesia.
Featuring a replica mountain to strengthen brand message
The Le Minerale in-store display unit at the Robinsons Supermarket in Robinsons Galleria shows a replica of a mountain to emphasise the natural source of the mineral water from the mountain.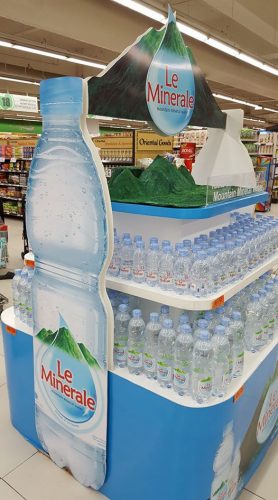 The television commercial of Le Minerale in the Philippines features a man with a Caucasian face. He is known as the "Le Minerale expert" surveying the mountain and checking the quality of the mountain water. The next clip sees the water passes through a multi-stage filtration to produce safe and clean water for consumers.
Le Minerale is available in 330ml (PHP 8.75) and 600ml (PHP 11.00).
What Mini Me thinks
Indonesian FMCG companies such as Kalbe Farma, Mayora Indah and Nippon Indosari Corpindo are actively growing their presence in the Philippines. The attraction of the Philippines for Indonesian companies is due to the fact that both countries have similar consumption environment with traditional market dominating the retail landscape. There is also a large upwardly mobile aspiration consumers attaching preference to affordability, convenience and quality.
Le Minerale represents an affordable option with mineral water quality from the mountain, pitting itself with Summit Water from LT Group.

*Images: Le Minerale displayed at Robinsons Supermarket, Robinsons Galleria in Quezon City, Manila. Photographed by the author