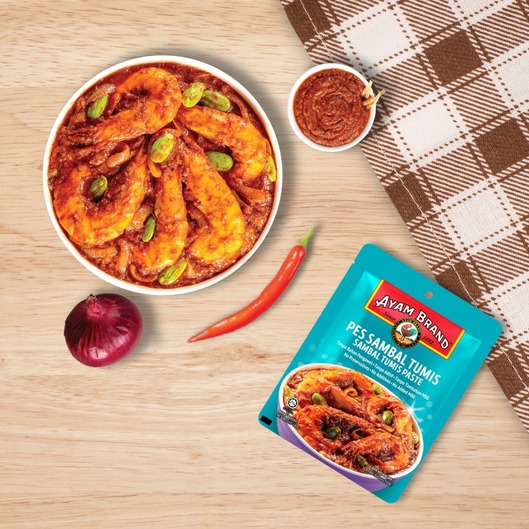 Fool-Proof Traditional Favourites in 30 Minutes
Shah Alam, 21 September 2023 – Malaysians love authentic traditional foods but some of us, millennials, Gen Zs and Gen Alphas were not schooled in making these heritage dishes.
Simply reach for Ayam Brand™ Pastes that come in four variants Ayam Brand™ Chicken Curry Paste, Ayam Brand™ Sambal Tumis Paste, Ayam Brand™ Asam Pedas Paste and Ayam Brand™ Rendang Paste. Guaranteed authentic tasting, and fool-proof as long as you follow the instructions on the pack and watch the stove.
A single 180g Ayam Brand™ Paste pack, topped with 500g to 600g of protein of your choice can be ready in 30 minutes or less and can generously feed five or six people. Rest assured that Ayam Brand™ Pastes are free from preservatives, added MSG and additives. They are also certified HALAL by JAKIM. Each pack retails for only RM5.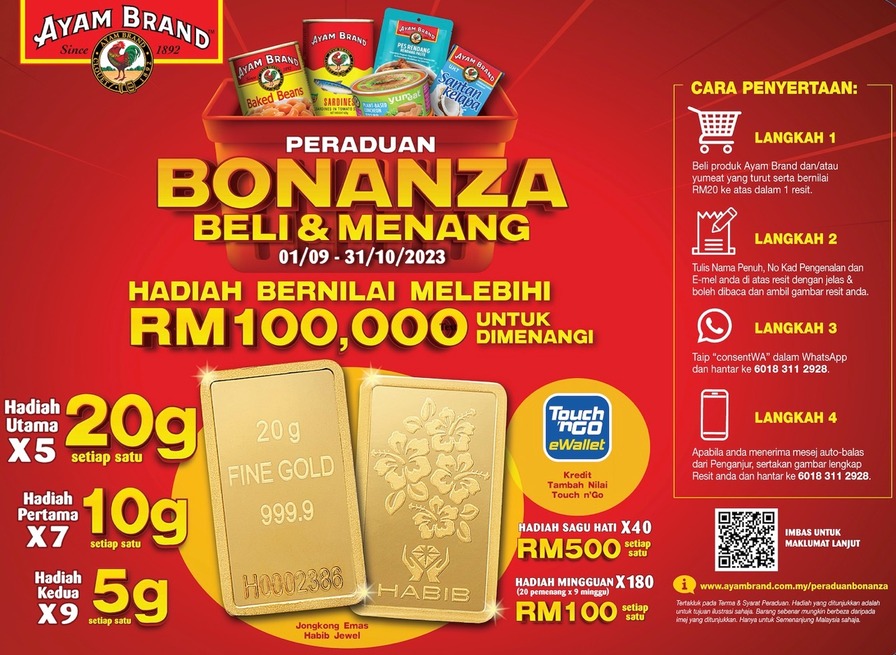 Grab your Ayam Brand™ Pastes on your next grocery run from 1st September until 31st October, in conjunction with Ayam Brand™'s Bonanza Beli & Menang, offering a total of RM100,000 in prizes. These prizes include 5 grand prizes of 20g gold bar, 7 first runner up prizes of 10g gold bar, 9 second runner up prizes of 5g gold bar, 40 consolation prizes of RM500 T&G credit and 180 weekly prizes of RM100 T&G credit. A minimum spend of RM20 on Ayam Brand™ and/or yumeat™ products in a single receipt receipt from participating retailers within Peninsular Malaysia is all you need to join. Head over to www.ayambrand.com.my/peraduanbonanza for the details.
In the meantime, find the super simple step-by-step instructions to make and serve authentic Malaysian favourites.
Curry Chicken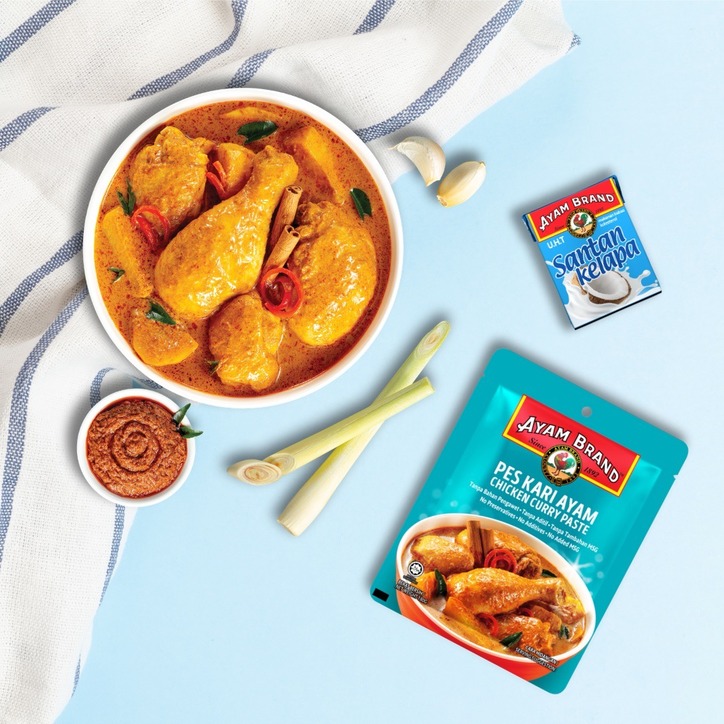 Chicken curry is beloved by all Malaysians. Start your own curry chicken tradition with Ayam Brand™ Chicken Curry Paste that is a masterful combination of shallot, chillies, garlic, coriander seeds, cumin, fennel seeds, turmeric, galangal, lemongrass and other aromatic spices and herbs.
In a large pan over medium heat, add a pack of Ayam Brand™ Chicken Curry Paste and 600 grams of chicken. Stir fry for 2 to 3 minutes. Add two peeled and diced potatoes and 120ml of water. Stir well, cover and bring to boil. Reduce the heat and simmer for 30 minutes, stir occasionally or until chicken and potatoes are cooked. Stir in Ayam Brand™ Coconut Milk and return to boil.  Serve with steamed rice, rotis or even fried noodles.
Prep time: 10 minutes, cooking time: 30 minutes, serve: 5-6 pax
Fish Asam Pedas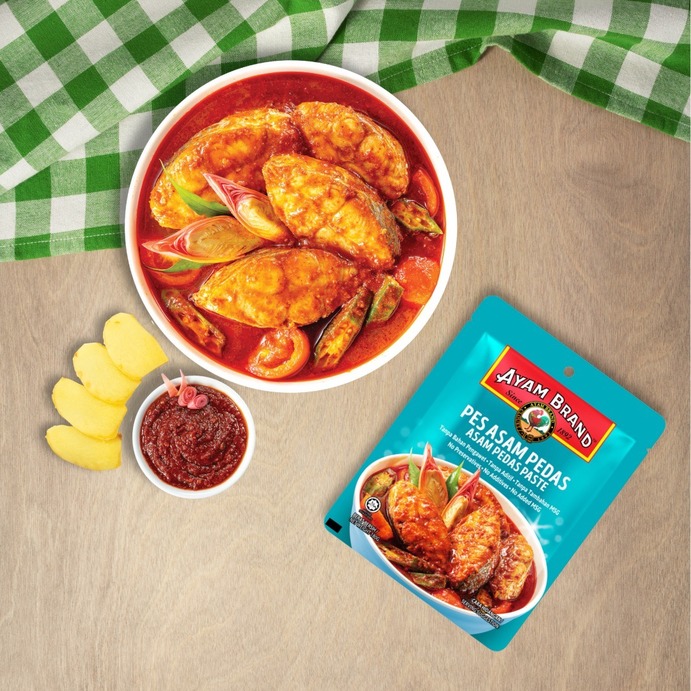 When you need that spicy sour hit, reach for Ayam Brand Asam Pedas that will wake up your senses with its secret mixture of tamarind, onion, dried chilli, torch ginger, garlic, shrimp paste and ginger.
Heat a tablespoon of vegetable oil, add the paste, and stir until you smell the wonderful aroma. Pour in 300ml of water, stir well and bring to the boil. Gently add in 500g of fish, lady's finger, and a handful of laksa leaves. Reduce heat, and simmer for 2 minutes. Serve with steamed rice.
Prep time: 10 minutes, cooking time: 15 minutes, serve: 5-6 pax
Prawn Sambal Tumis
Stir-fried Sambal or popularly known as Sambal Tumis in many unique variations is a mainstay of all Malaysian households. Add this easily adaptable dish to your repertoire with Ayam Brand Sambal Tumis Paste that is rich with onions, chillies, shrimp paste, candlenut, dried shrimp, and curry leaves.
Heat two tablespoons of oil in a wok over medium-high heat. Add one finely sliced onion and stir fry for 2 minutes. Add a pack of Ayam Brand™ Sambal Tumis Paste, stir and bring to boil. Add 500 grams of prawns and stir until the prawns are cooked. Serve with steamed rice.
Prep time: 10 minutes, cooking time: 10 minutes, serve: 5-6 pax
Try these easy, convenient and authentic local pastes from Ayam Brand™ to indulge in the Malaysian culinary experience.
Ayam Brand™ products are widely available from your friendly local provision stores, Aeon, Aeonbig, Econsave, Giant, selected Hero, Jaya Grocer, Lotuss, Mydin, Village Grocer, OTK, Checkers, Matahari, NSK, Pasaraya Econjaya, Sabasun, Pantai Timor, Billion, Sunshine, Nirwana, Tunas Manja, Pasaraya Hwa Thai, Maslee, Target, CS Brothers, Family Store or visit the Ayam Brand™ Official stores on Shopee and Lazada.