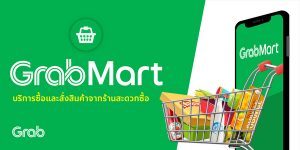 Bangkok–20 July 2020
Grab, the leading everyday everything super app in Southeast Asia, today celebrated the latest milestone of GrabMart, its new on-demand daily essentials delivery service, which recorded five times growth in June as compared to April 2020. The new service which provides consumers a convenient way to purchase a wide range of consumer goods including groceries, home essentials, health and beauty items, gifts, and much more, has been well-received by Thai customers.
Chantsuda Thananitayaudom, Country Marketing Head of Grab Thailand, commented that Grab decided to expand into on-demand daily essentials delivery to bring greater convenience to consumers. GrabMart enables consumers to easily shop and order from a wide range of convenience stores, supermarkets and specialty shops, and have their items delivered to their doors in under an hour or at a scheduled time. The launch of the new service reflects another strategic move of Grab Thailand to diversify its business beyond on-demand ride-hailing, food and package delivery, and payment solution, making Grab truly become 'Everyday Everything App' for consumers.
"As of June 2020, GrabMart grew by five times in transaction compared to its initial launch in April. According to GrabMart's user data, the top five best-selling products are soft drink, salty snack, packaged drinking water, ice, and ready-to-eat food, while the service peak period is during weekends, particularly between 7 to 10 p.m. The majority of GrabMart's users are those who want access to essentials and food products anytime anywhere, and avoid travelling and saving queuing time at the physical stores during the spread of COVID-19," added Chantsuda.
GrabMart is now available in over 50 cities in eight markets across Southeast Asia, including Singapore, Indonesia, Malaysia, Vietnam, Thailand, the Philippines, Myanmar, and Cambodia. In Thailand, GrabMart is operating in 25 provinces nationwide, including Bangkok, Chiang Mai, Korat, Khon Kaen etc.
During the first phase, GrabMart has been partnering with supermarket chain operator Central Food Retail Co. Ltd. for daily essentials delivery service, starting from more than 230 FamilyMart outlets. The service has then expanded to major retailers and supermarkets namely Tops Market, Tops Daily, Central Food Hall, and MaxValu, as well as other specialty stores such as J Gourmet for meat products, Dettol for household cleaning and hygiene products, canned product Sealect and organic cleaning products Organics Buddy.
Apart from food, daily essentials and consumer products, GrabMart is now offering fruit delivery through the Farmers' Market, under the "Grab Loves Farmers" project. This initiative is a collaboration between Grab Thailand and the Ministry of Agriculture and Cooperatives in a bid to help local farmers impacted by the COVID-19 pandemic. Officially launched in early June, the Farmers' Market currently distributes high-quality fruits such as durian, mangosteen and rambutan etc. to customers from ten pick-up points across Bangkok.