Singapore, 6 April 2021 – Fever-Tree, the global premium mixer brand, has debuted a versatile new range of tonic waters expertly crafted by blending the finest naturally sourced ingredients and using fruit sugars for a lighter and lower-calorie serve. A company built on innovation, Fever-Tree expands its collection of high-end mixers with four new Refreshingly Light variants in Singapore of the following best-selling tonics: Cucumber Tonic Water, Elderflower Tonic Water, Indian Tonic Water and Mediterranean Tonic Water (see Appendix for full tasting notes).
As with all Fever-Tree tonics, the new Refreshingly Light products are made with the best ingredients from around the world, blended with quinine of the highest quality from the 'fever-trees' of the Democratic Republic of the Congo. From handpicked English elderflowers, to lemon thyme from Provence, France and bitter oranges from the Yucatan province in Mexico, each of the ingredients is naturally sourced with no artificial colours or sweeteners added.
Fever-Tree's new Refreshingly Light Elderflower Tonic Water, Indian Tonic Water and Mediterranean Tonic Water are available in Singapore in eight-pack (RSP $13.50) or 24-pack (RSP $39.90) cartons of 150ml cans. Whether you're treating friends and family to an at-home cocktail hour, organising a barbeque or heading to the beach, the new cans are perfectly portioned for mixing up simple drinks with your spirit of choice. One of Fever-Tree's most popular flavours, the Refreshingly Light Cucumber Tonic Water is available in a 500ml bottle (S$5.90) or 24-pack of 200ml bottles (RSP $43.50) to mix up drinks for a group.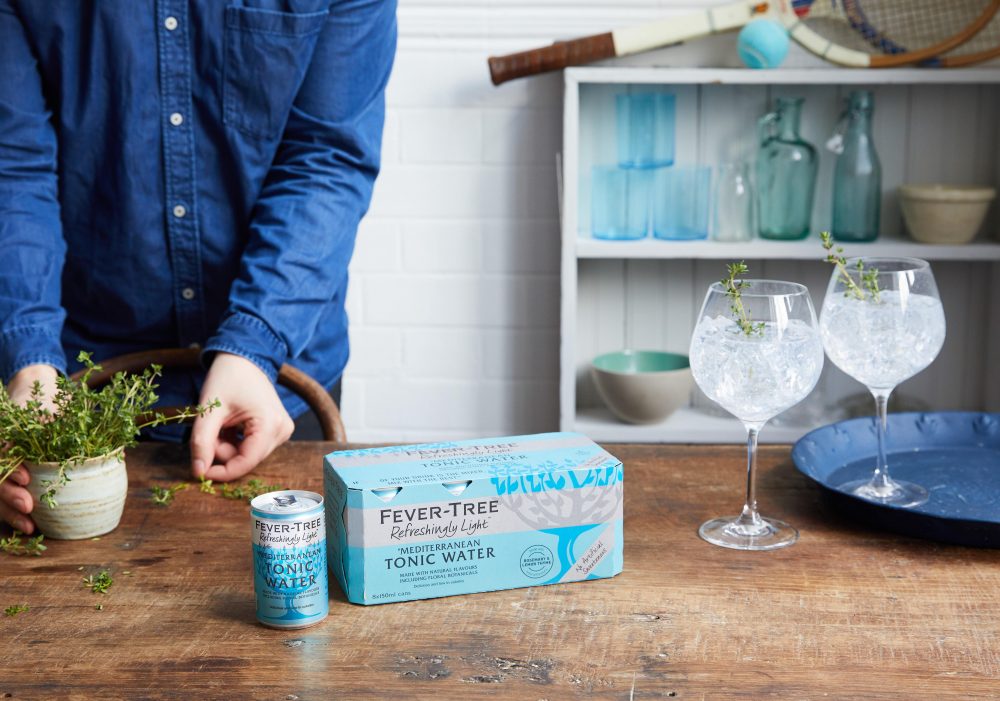 The versatile range pairs well with a variety of flavours, offering endless cocktail options simply using different spirits or garnishes in a traditional long drink. For the curious home bartender, Fever-Tree offers cocktail inspiration online with a flavour wheel and customised pairing guide based on preferred flavour profiles. Simple recipes are available to recreate at home, such as the Cucumber Garden Party, comprised of three parts Fever-Tree Refreshingly Light Cucumber and one part Tanqueray Gin mixed over ice in a copa glass, garnished with a thin cucumber ribbon.
In 2005, Fever-Tree co-founders Charles Rolls and Tim Warrillow pioneered the premium mixer category, bringing choice, quality and excitement back into the category as popularity in spirits grew. Amidst increasing consumer awareness of and interest in the provenance of what they ate and drink, somehow the movement towards premiumisation had passed the mixer category by. From the very beginning, Charles and Tim approached their business in a different way – there would be no compromise at Fever-Tree. Flavour and quality were of the utmost importance. Following the belief that "if three-quarters of your drink is the mixer, mix with the best," Fever-Tree was launched.
Fever-Tree's new Refreshingly Light products are available for purchase in Singapore at top online retailers such as Cellarbration and Fair Price, as well as Cold Storage shops around Singapore. For more information, please visit https://fever-tree.com/.