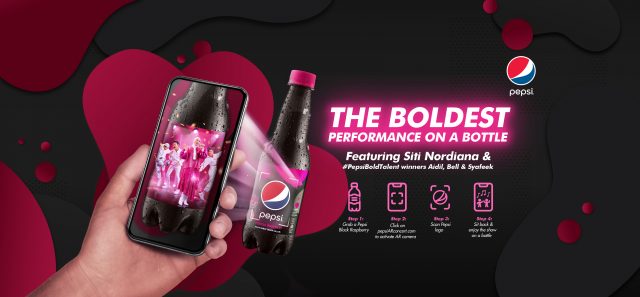 19 April 2021 – Pepsi is once again breaking new boundaries and transforming the music experience in Malaysia by bringing fans the first-ever Augmented Reality (AR) Concert in Malaysia on 16 April 2021 – available exclusively for Pepsi fans. Featuring popular artiste Siti Nordiana as the main performer, the concert also features three passionate local talents – Aidil, Bell and Syafeek, who won the #PepsiBoldTalent audition challenge.
"At PepsiCo, music is a key way for us to connect with our fans, and we know that music lovers in Malaysia have been missing the concert experience for over a year due to the pandemic. So, we decided to bring them the first-ever Augmented Reality Concert in Malaysia – something that has never been done before in Malaysia yet it is very much in line with our bold personality and pioneering nature. In particular, we are drawing upon the bold taste of Pepsi Black and its spirit of challenging the norm by making this exclusive concert content only accessible to consumers of Pepsi Black Raspberry – our exciting new cola flavour offering a bold taste and no calories," said Salman Butt, Senior Marketing Director APAC of PepsiCo.
The concert headed by Siti Nordiana – who was voted the most popular female artiste (Artis Top Top Meletop Wanita) by music fans in the Anugerah MeleTOP Era 2020, gives fans the opportunity to watch a performance of her latest song, showcasing the talents of dancer Bell, freestyle footballer Aidil and singer Syafeek. In the #PepsiBoldTalent audition challenge, the trio's talents shone and stood out in a pool of over 3,000 audition videos, where their entries attracted the highest number of engagements, enabling them to emerge as winners in the #PepsiBoldTalent competition.
"We wanted to thank our loyal Malaysian fans by creating a really special experience for them, and what could be a better way than elevating homegrown Malaysian talents and offering them a platform to showcase their bold spirit and brave determination. This groundbreaking Augmented Reality Concert highlights the best of our local talents and opens up a new avenue for Malaysians to express themselves and achieve their dreams, reflecting Pepsi's aim of championing the bold and brave generation of today, and continuing to bring excitement and new experiences to consumers in Malaysia," commented Jennifer Lee, Beverage Marketing Lead of PepsiCo.
A trio of talented Malaysians
Passionate about improving their talents and sharing their love for performance with fans, this talented young trio is dreaming big when it comes to the future. Self-taught dancing talent Bell, a 22-year-old student who has been dancing for three years, hopes to use the exposure to emulate the success of her performance heroes, while freestyle football talent Aidil, also 22, wants to use the opportunity to elevate awareness of freestyle football. Although a graphic designer by profession, he has been freestyling football for almost eight years, honing his talent by practicing more than seven hours a day on weekends. Meanwhile, singing talent Syafeek, who discovered his talent while studying engineering in France, hopes this latest exposure will contribute towards greater success as a singer. Having performed at corporate functions and participated in singing competitions since 2012, he won the i-SiNG World competition in Paris in 2018.
Fans can see more of the trio as follows:
Aidil: https://www.tiktok.com/@aidilaminuddin
Bell: https://www.tiktok.com/@bubellbuu
Syafeek: https://www.tiktok.com/@syafeek_ikhwan
How to watch the concert
Music fans and lovers of Pepsi Black Raspberry flavour can experience Malaysia's first AR Concert brought to you by Pepsi – anywhere, anytime, beginning 16 April 2021 for a month, just by following these simple steps:
Get a bottle of Pepsi Black Raspberry.
Log on to pepsiARconcert.com.
When prompted on your phone screen, scan the bottle.
Wait for the AR Pepsi bottle to load.
Enjoy the concert, which plays right on the bottle!
For further information, please visit our social media pages on Facebook: Pepsi Malaysia (MY) and Instagram: @pepsimy.