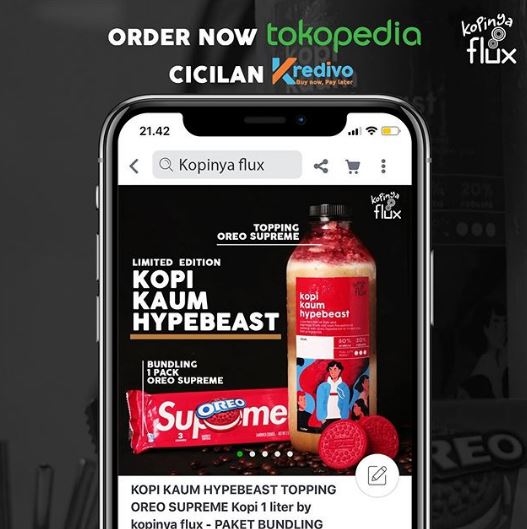 Kopinya Flux has introduced the most expensive 1 litre coffee drink in Indonesia with Oreo Supreme topping. Oreo Supreme or Supreme Oreo is a collaboration between Oreo and the streetwear company Supreme. The limited edition Oreo Supreme is nothing but red with the word Supreme printed on them but the price for one pack has gone up due to scarcity marketing.
On Tokopedia, the price of a pack of Oreo Supreme can go up to IDR 600,000.

The limited edition Kopi Kaum Hyperbeast is priced at IDR 1.5 million and (USD 106) on Tokopedia and comes with a pack of Oreo Supreme. The drink features a layer of Oreo Supreme as topping. Consumers can choose to pay the drink in installment. The price for the drink itself is IDR 1 million and is said to be a perfect mix of milk and espresso made from 80% Arabica and 20% Robusta.
Kopinya Flux leverages on the hype generating from Oreo Supreme and combines it with the popular 1 litre format to create a drink that attracts the attention of young consumers looking for next hype.