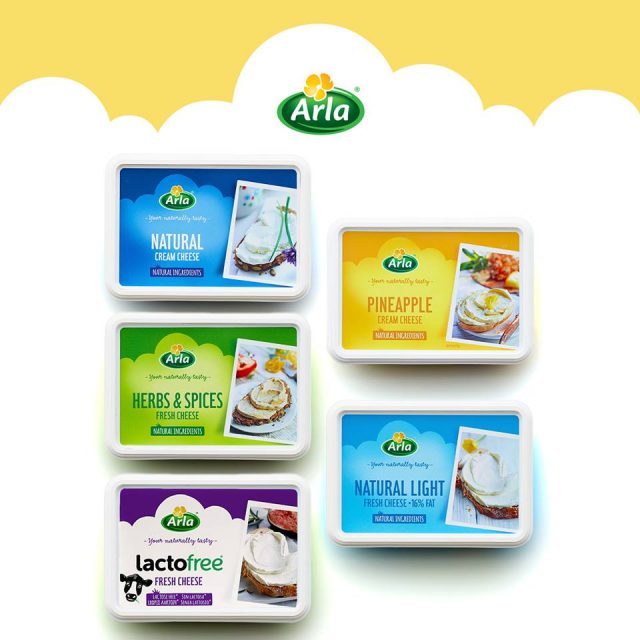 The Danish dairy producer Arla recently launched its range of cream cheese and fresh cheese in Malaysia including the Lactofree Fresh Cheese.
Image taken by the author at Cold Storage
Arla, which has its Business Unit Asia in Kuala Lumpur to oversee China and Southeast Asia, entered the Philippines market in October 2015 with Lactose Free Full Cream UHT Milk, the first in the market, Natural Cheese Slices, Cream Cheese and other dairy products.
Arla has even set up a Facebook page for the Philippines market with 16,628 people who liked the page as of 6 February 2016. The official Facebook page shows Arla is devoting resources to grow the Philippines market. As a contrast, Malaysia seems not getting the marketing dollar. The most likely reason is the growth of the middle class in the Philippines, a country with a population of about 100 million, is making the country an irresistible market for Arla to tap into the premiumisation trend in the dairy sector. Malaysia is a more matured market with wider varieties of imported dairy products. It make sense to focus on the Philippines market with potential to achieve leadership position in the imported cheese segment.
Cheese section in an SM Supermarket in Manila – image taken by the author in January 2016
The images above were taken at Robinsons Supermarket in January 2016 illustrating how Arla is providing recipe idea for its cheese products in store.
Price
The price for Arla Pineapple Cream Cheese is the same in both Malaysia and the Philippines quoted at RM 8.30 at Cold Storage or PHP 95.00 at SM Supermarket.
Indonesia – focusing on kids and affordability
Image taken by the author in November 2015
In Indonesia, Arla is focusing on Kids Sticks through the minimarket channel. The strategy is to sell the Arla Kids Sticks in individual stick for an affordable price of IDR 5,500 (USD 0.40). The key for the Indonesia market is to start em young and making cheese a healthy snack.