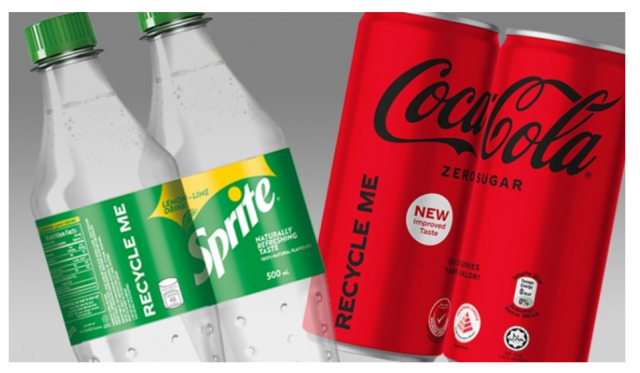 Kuala Lumpur, 15 September 2021 – Coca-Cola Malaysia is rolling out a 'Recycle Me' message on its package labels across all its brands and products in Malaysia designed to remind consumers to help recycle the bottle after they have enjoyed the drink.
"Like most people, we don't want to see our bottles end up as litter. We are committed to doing more and being part of the solution," said Adlina Azharuddin, Public Affairs and Communications Franchise Operations Manager Malaysia. "All our bottles and cans are recyclable by design. In addition to driving collection and recycling infrastructure we want to use the power of our brands to encourage more people to help our packages have another life. This means once you have enjoyed the drink, please help collect and recycle the bottle."
Engaging consumers around the importance of packaging collection and recycling is an essential part of Coca-Cola's vision to create a World Without Waste, as the company works to reach its zero-waste goal by 2030. In 2018, the company pledged robust World Without Waste goals to help collect and recycle the equivalent of a bottle or can for every one the company sells globally by 2030, to make 100% of its packaging recyclable by 2025 and to use at least 50% recycled material in its packaging by 2030.
The 'Recycle Me' initiative is the latest step from Coca-Cola as part of a holistic approach by the company in Malaysia to tackle packaging waste. Over the years, Coca-Cola Malaysia has launched several initiatives to tackle plastic waste:
The company has switched its iconic green Sprite packaging to clear plastic across Malaysia to make the bottles easier to recycle.
Coca-Cola is also partnering with other leading companies in Malaysia under the Malaysian Recycling Alliance (MAREA) with a goal of accelerating packaging collection and recycling in a sustainable way.
"While our company continues to step up its support of packaging collection, recycling infrastructure and partnerships to combat marine debris in Malaysia and across ASEAN, we also understand that one of the most impactful ways our brand can play a role is by using our on-pack labels to highlight a simple 'Recycle Me' message," said Adlina
The 'Recycle Me' message is now being rolled out on all the company's brand and packs in ASEAN and the transition is expected to be completed across the majority of the company's packaging by the end of the year.
Coca-Cola through its World Without Waste program has been driving consumer awareness around recycling and helping inspire behavior change towards sustained packaging collection and recycling efforts.
Find out more about Coca-Cola's World Without Waste roadmap and progress here.