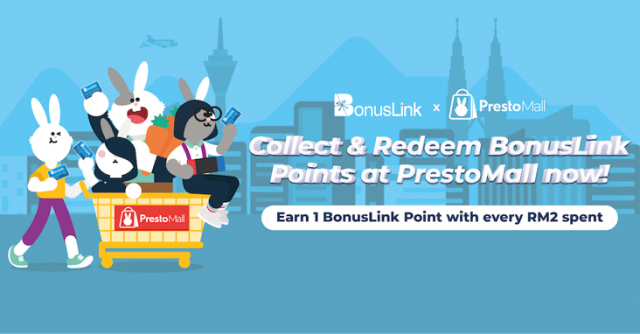 Kuala Lumpur, 15 June 2020: BonusLink, Malaysia's leading coalition loyalty company today announced a new partnership with PrestoMall, one of the largest home-grown online shopping platforms.
This is in line with BonusLink's direction towards adopting the latest technological approaches and tapping into more digital retail partners to cater to the increasing trend of online shopping among Malaysians. The company's core focus remains with delivering experiences that are exciting and rewarding to its 9 million Members nationwide.
BonusLink Members will now have the advantage of redeeming a wide range of over 100 specially curated gifts or have the option to redeem a wide range of products on PrestoMall with a minimum of 100 BonusLink Points, equivalent to RM1. Within PrestoMall, BonusLink Points are considered a mode of payment, just like cash. Purchases can be made in full or partial BonusLink Points and the remaining balance can be topped up with cash during checkout. 
In conjunction with the exciting launch, BonusLink Members can now collect 1 BonusLink Point for every RM2 spend when shopping at www.prestomall.com. The launch offer starts now until 30 November 2020. Thereafter, the standard Points structure will apply.
Melvin Ooi, CEO of BonusLink said; 'We are delighted to have PrestoMall on board. Through this strategic partnership, the BonusLink ecosystem will continue to be enhanced with yet another avenue for Members to collect BonusLink Points on a platform that is not only relevant but appealing to Members of all lifestyles. This is in addition to the long list of online Partners we've recently added to our fold. Our Members who are mostly savvy digital consumers, can certainly look forward to more of such partnerships in the near future.
Cheong Chia Chou, (CEO of PrestoMall) said; 'We are thrilled to be the exclusive online redemption partner with BonusLink. This strategic collaboration is a win-win for both parties, enabling members to redeem and collect BonusLink Points on PrestoMall's e-commerce platform. We also host a personalised curated page with a variety of items to choose from just for BonusLink members. This is also in-line with Presto's objective to be a lifestyle super-app, enabling members to live their digital lives faster, cooler and richer."
As an exclusive online redemption partner, BonusLink Members can now collect BonusLink Points and redeem over 100 Special Gifts via the dedicated landing page at https://promotion.prestomall.com/BonusLink/. For more information visit us here.