SERDANG, 15 June 2020 – OURFARM, a new business-to-business (B2B) e-commerce platform, is set to revolutionise the agribusiness supply chain, enabling farmers to connect directly to businesses and boost their income by eliminating middlemen costs providing logistical support that farmers to fulfil orders directly to businesses.
The platform was launched today by Minister of Agriculture and Food Industries (MOA) YB Datuk Seri Dr. Ronald Kiandee, Executive Chairman of AirAsia Group Datuk Kamarudin Meranun and CEO of AirAsia Group Tan Sri Tony Fernandes.
OURFARM leverages AirAsia's robust all-encompassing ecosystem, which includes cargo, logistics and payment capabilities along with its significant database of businesses and consumers. Furthermore, the platform, at zero onboarding cost, offers farmers a chance to receive training on digitalising their business with e-commerce courses from RedBeat Academy.
In line with the government's National E-commerce Roadmap agenda to future-proof existing businesses and to expand local market access, OURFARM is established as a strategic partnership with MOA and will support over 1,000 government contract farmers as well as owners of private farms.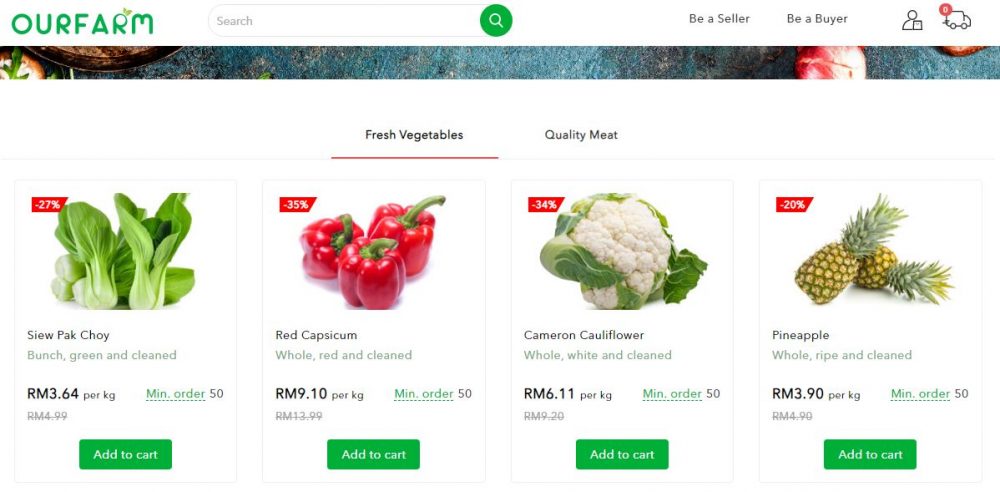 Executive Chairman of AirAsia Group Datuk Kamarudin Meranun said: "Digital innovation is one of our key cornerstones, and we would like to thank the Ministry of Agriculture and Food Industries for recognising the value in OURFARM. This platform is a disruptor and will help many small businesses by reducing the cost of fresh produce procurement by up to 25% as they will be able to source directly from the agriculture producers. We have learnt from the experience of running our inflight meal catering and our recently launched Santan Cafe, where we also faced challenges of high prices for fresh produce.
Importantly, OURFARM will help increase the profit margins of agriculture producers by eliminating middlemen costs. This platform provides a more efficient supply chain management system which supports the food security agenda of the nation. With Asean being identified as the most productive agriculture basket in the world, we also plan to expand this platform to support other parts of the region in the long-term."
YB Datuk Seri Dr. Ronald Kiandee, Minister of Agriculture and Food Industries commented, "The Ministry has been proactive in engaging industry players, especially in helping to match businesses to e-commerce platforms on both the business-to-consumer (B2C) and business-to-business (B2B) fronts. This strategic partnership between MOA and OURFARM will create a new ecosystem that can help agribusiness expand and have a wider reach, while giving end-consumers better value for their money. We applaud the AirAsia Group for introducing a disruptor brand and platform like OURFARM and hope that it can contribute towards availability, accessibility, affordability and stability of the agro-food and agribusiness sector in Malaysia."
OURFARM's last-mile solution will be powered by Teleport, the logistics arm of AirAsia Group as well as TheLorry.com.
Radzi Tajuddin and Nadhir Ashafiq, Co-founders of OURFARM said: "This disruption is a long time coming. For the last 60 years, farmers, breeders and fishermen in general have had a small pie in the food supply chain ecosystem. Based on research made by the Malaysian Anti Competition Commission (MyCC), these food producers only earn approximately RM1.50-RM2.00 for every RM10.00 of product sold.
"Core success factors for this platform rest upon technology, big data and logistics. OURFARM has all these 3 elements. We differentiate by having a network of 7,000 lorries and pickup trucks that can be mobilised in 60 minutes to perform pickup and delivery. This ensures the freshness of the product while at the same time providing cost savings to our farmers. We strongly believe with the advent of digital technology – OURFARM is able to improve their livelihood and income just like the producers in Japan and China."
OURFARM will also provide other benefits, including credit terms to support business buyers and the ability to prevent wastage as buyers can scale their purchase volume according to their actual needs through the website.
OURFARM currently covers the Klang Valley area, with plans to expand the business connecting producers and businesses nationwide in the near future, including the potential to build in export/import capabilities and regional expansion in the longer term.
To sign up, interested businesses can visit the OURFARM website at www.ourfarm.asia.
About OURFARM
OURFARM was established with the aim of providing solutions for both fresh producers and F&B clients. We've been brewing the idea for the past few years, and now we can finally reveal our agriculture e-commerce platform- connecting farmers and producers directly to hotels, restaurants and catering clients – providing higher margin for both producers and buyers.
This platform is a collective effort by AirAsia with the full support of the Ministry of Agriculture.