Spike of orders on 11 Shocking Sales was mainly driven by popular brand sales, free shipping purchases, flash sales and lowest price guaranteed deals
Overseas products sold on 11.11 increased by 600% from average daily orders. Top performing product categories on 11.11 were Grocery, Home Electronics, and Beauty & Sports
Traffic to site more than doubled with 85% contributed by mobile devices in one day, indicating the shift to m-commerce due to growing mobile penetration
Kuala Lumpur, 14 November 2017 – Global Shopping Day, otherwise known as 11.11 or Singles Day, is a shopping phenomenon that consumers throughout the world look forward to. As such, 11street – Malaysia's second largest online marketplace – curated 11.11 Shocking Sales for Malaysians and saw its total orders surge by 4 times in comparison to a regular business day, 10 November.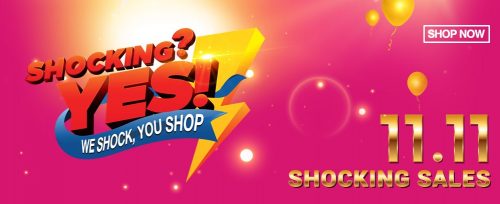 Chief Operating Officer of 11street, Chuljin Yoon said: "As the biggest shopping day of the year, 11street seeks to share the joy of saving and shopping online with Malaysian consumers. We have seen remarkable success with RM1 flash sales and free shipping promotion in early November after we kickstarted our 'Shocking? YES!' campaign. Knowing what our consumers want is key and this led us to introduce these favourites, to add greater value for our consumers on this special global shopping day, 11.11."
Within the 11.11 total order volume spike, 11street also saw a record breaking number of orders for overseas products which increased by 600% from average daily orders on Saturday. In addition to that, product categories such as Grocery, Home Electronics and Beauty & Sports have experienced the most significant increase in total orders, by 4.7 times, 5.7 times and 4.3 times respectively from average daily orders.
Likewise, e-vouchers and services also experienced growth throughout 11.11 Shocking Sales, which increased by 70%. Throughout World Singles Day, some of most highly sought-after products on 11street were GPS and mobile accessories, smartphones, television sets, fuel vouchers, theme park tickets, food and beverage, and photobook items.
Tracking the psychographic pattern of consumers' preferred payment method, 11street discovered that purchases made through credit card increased by 386% while traffic to the site more than doubled, with 85% of the traffic contributed by mobile devices in one day, indicating the shift to m-commerce due to growing mobile penetration.
"The numbers are very encouraging, as 11street continues to move forward to be able to give consumers what they are looking for. As the gears turn, 11street is also preparing a host of different campaigns, sales and promotions for the year end, and the coming 2018," ended Yoon.
As part of 11street's year-end campaign – 'Shocking? YES!', 11.11 Shocking Sales offered lowest price guarantee promotions, free shipping, periodic flash sales with deals as low as RM1 and RM11, as well as great discounts from more than 100 brands including Bosch, Courts, GNC, Huawei, LG, Nestle, Samsung, Skechers, Tesco, Unilever, Watsons, Xiaomi and many more brands with up to 90% discounts and up to RM300 worth of coupon available for downloads.
For more information on upcoming campaigns, sales and promotions, please visit www.11street.my.
About 11street (www.11street.my)
11street is a trustworthy and convenient online marketplace that offers a great variety of products at competitive prices. It strives to revolutionise today's consumers' online shopping experience by making it more personalised and engaging. 11street has a diverse selection of product categories which are tagged on Fashion, Electronics, Groceries, Health & Beauty, Kids & Baby, Leisure & Sports, Home & Living, and Books & Services including deal offerings like E-vouchers. 11street is also an optimised marketplace where its merchandising ecosystem, education and training programs can fully support sellers regardless of the size of their businesses. Established in Korea since 2008, 11street is now one of the top global e-commerce marketplace providers with 400,000 sellers serving over 30 million consumers worldwide. 11street also has a presence in Turkey and Thailand, known as n11 and 11street respectively. For more information, please visit http://www.11street.my.