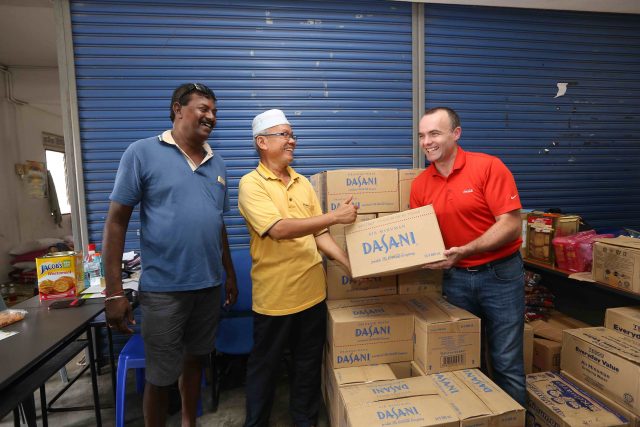 9 November 2017
Coca-Cola Malaysia recently activated its extensive nationwide supply network to deliver 24,000 bottles (1,000 cartons) of Dasani mineral water to relief centres and other distribution channels across Penang and Kedah to ensure that the flood victims will have immediate access to clean drinking water.
"As a business that operates locally, the Company is committed to assisting local relief efforts where needed and this happens in communities and countries around the world. In many cases, The Coca-Cola Company is in a unique position to provide assistance during and after natural disasters when the community needs to rebuild their lives because of our large distribution network and presence in over 200 countries," said Coca-Cola's Bottling Investment Group Malaysia-Singapore-Brunei CEO, Gareth McGeown McGeown.
McGeown and General Trade Sales Director, Yap Wei Han were at the Sekolah Kebangaan Bertam Indah and Pusat Banjir Lubok Meriam flood relief centres recently in the badly hit Seberang Perai area where cases of water were delivered to the 700-odd families seeking shelter there.
The Coca-Cola team also visited affected retailers in the surrounding areas to see how the Company can extend their support on repair works.