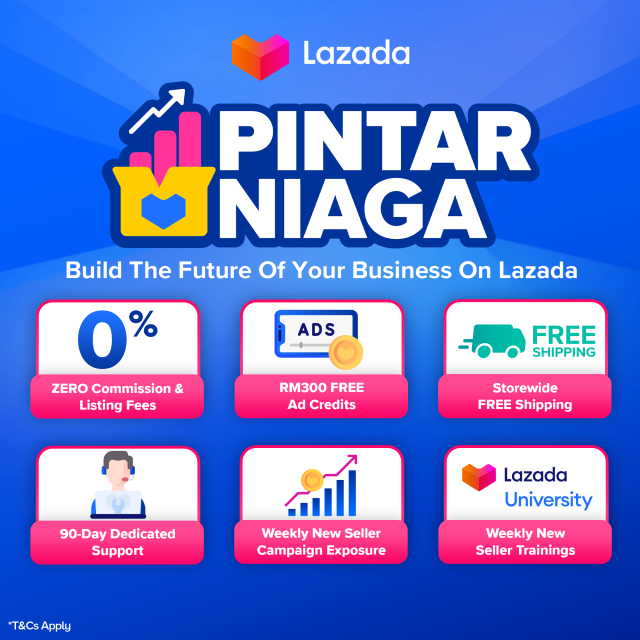 Pintar Niaga stimulus package continues to help sustain livelihood of MSMEs

Over 50% uplift in sales for groceries on Lazada this Ramadan, while growth of fashion category soared nearly 60% in sales

Putu piring, murtabak, kuih lopes, roti john, and tepung pelita were the best-selling hot food on Lazada's month-long Lazat Bazaar
KUALA LUMPUR, 10 May 2021 – While the nation continues the battle against COVID-19 during the Ramadan fasting month, hundreds of thousands of Malaysians have opted to carry on the tradition of visiting bazaars virtually through the Lazat Bazaar, an ongoing month-long online food festival on Lazada. Local small businesses, grocers, and bazaar merchants, that pivoted online at zero cost by leveraging on Lazada's Pintar Niaga stimulus package, are now able to sustain their businesses during the Movement Control Order (MCO) 3.0 and benefit from the growing momentum of eCommerce for the remainder of the Ramadan season and upcoming Raya celebrations.
"In these uncertain times, where Ramadan bazaar merchants are struggling for business continuity and scrambling to clear stocks due to the pandemic, we stand ready to empower micro, small, and medium-sized enterprises (MSMEs) with the necessary support, tools, training, and platform to future-proof their business through digitalisation. The Pintar Niaga stimulus package not only helps vulnerable businesses and homegrown entrepreneurs stay afloat by flattening the barriers of entry to eCommerce, but also enable them to thrive by providing easy access to Lazada's ecosystem of data-driven technology and vast logistics network," said Sherry Tan, Chief Business Officer, Lazada Malaysia.
The Lazat Bazaar, which offers same-day delivery* on cooked-to-order food for Lazada customers in selected locations within Shah Alam, Taman Tun Dr Ismail, and Subang, will continue to connect KLites and Selangorians with their favourite local bazaar stalls and markets until the upcoming Raya festivities. The best-selling hot food purchased on the digital bazaar so far has been the putu piring, followed by murtabak, kuih lopes, roti john, and kuih tepung pelita.
Mohd Nujhan Zulkifli, owner of Abe's Nasi Kukus Ayam Berempah, stated that: "As we were approaching the holy month of Ramadan, I was worried about my food truck business and what I could do to earn a living. Lazada offered me a lifeline to take my business online via their Lazat Bazaar. If not for this leap into the digital space, coupled with Lazada's Pintar Niaga stimulus package support and guidance, I would have been in trouble."
The Pintar Niaga stimulus package offers 0% commission and listing fees for MSMEs, while providing businesses with easy access to Lazada University's comprehensive step-by-step training, Seller Centre's innovative tools, free RM300 advertising credits, free high-traffic exposure slots, Free Shipping voucher incentives, 90-day dedicated support, and more*.
"Throughout Ramadan, we saw sales for groceries record more than 50% uplift as Malaysians shopped for cooking and buka puasa essentials online on Lazada. Additionally, the local online shopping appetite also extended to other categories, especially fashion, which also soared nearly 60% in sales. 'Baju kurung', 'baju Melayu', and 'telekung' became some of the top trending Raya-related keywords searched by our users. This trend presents an opportunity for local businesses to tap onto the shift in online consumer behaviour during the Ramadan and upcoming Raya period to maximise their sales and customer outreach," said Susan Too, Head of Traffic, Lazada Malaysia.
Last year, local MSMEs on Lazada generated more than double the sales due to the platform's stimulus package and supportive measures. Local MSMEs across all industries are welcomed to sign up as a new seller via this link (http://lzd.co/SellOnLazadaMY), whereas those looking to feast on local Ramadan bazaar delicacies from the comfort of their homes can visit the Lazat Bazaar here (http://lzd.co/LazadaMalaysia).