KUALA LUMPUR, 10 May 2021 – McDonald's Malaysia collaborated with Astro through McDelivery Berbakti, an initiative that saw the delivery of food and daily essentials to asnaf families and the country's frontliners during the holy month of Ramadhan.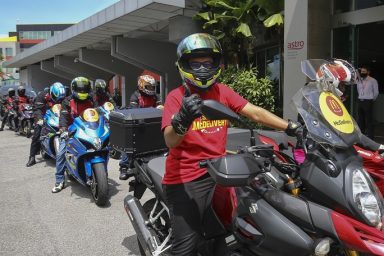 In April, McDonald's and Astro participated in the Ziarah Ramadan programme organised by Pusat Pungutan Zakat-Majlis Agama Islam Wilayah Persekutuan (PPZ-MAIWP), where 10 asnaf families each received cash donations, daily essentials, and McDonald's buka puasa meals.
"The holy month of Ramadhan is a time of reflection and giving back to the less fortunate. In these trying times that we are living in, it is important for us as an organisation to remind the community that they are not alone," said Azmir Jaafar, Managing Director and Local Operating Partner, McDonald's Malaysia.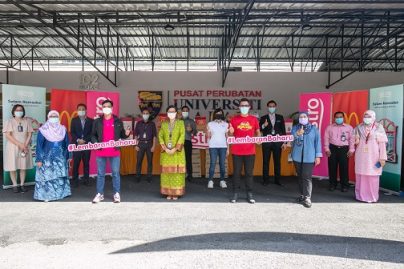 Several charitable activities were carried out by McDonald's and Astro during Ramadhan, including handing out meals to 1,000 frontliners at Ibu Pejabat Polis Kontinjen Kuala Lumpur (IPK KL) and Pusat Perubatan Universiti Malaya (PPUM) with singer-cum-host, Alif Satar, to show gratitude towards these frontliners who are unwavering in their dedication towards playing an active role to keep Malaysians safe.
"We are pleased to partner with McDonald's this Ramadhan in reaching out to the community. We are glad that despite the restrictions in place, we still managed to carry out the activities we planned out together, while still strictly adhering to the necessary standard operating procedures (SOPs)," said Wong See Wei, Director, Media Solutions, Astro.
Apart from its collaboration with Astro this Ramadhan, McDonald's Malaysia continued its food sponsorship to selected mosques nationwide for after-prayer meals (moreh).
McDonald's charity of choice, Ronald McDonald House Charities also organised buka puasa sessions for 5 orphanages in the Klang Valley and Kelantan, and contributed RM5,000 in cash to each home.
Engaging with the community underscores McDonald's commitment in creating a positive impact in society. Last year alone, more than 7,000 community programmes were initiated by McDonald's that brought joy to the lives of millions of Malaysians.