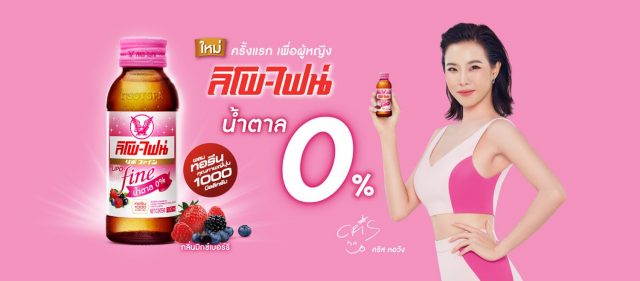 Osotspa Public Company, which holds the license to make Taisho Pharmaceutical's Lipovitan energy drink in Thailand, has launched Lipo-Fine to unlock consumption among female consumers.
Lipo-Fine is an energy drink for health lovers. It contains 0% sugar, 1,000mg of Japanese quality taurine and 15 kcal of energy. The mixed berries flavour aims to make energy drink more palatable to female drinkers.
Mrs. Wannipa Bhakdibutr, President of Osotspa Public Company Limited, said, "Spend per buyer on energy drinks among women consumers continues to grow. Women need something to boost their energy, so they can enjoy their activities throughout the day with confidence while always feeling energized. In addition, the spread of Covid-19 makes it more important for consumers to maintain their health. So they are inclined to spend more on products with health benefits. This provides a marketing opportunity for energy drink products that cater to the needs of women. Osotspa has partnered with Taisho Pharmaceutical to launch a new product inspired from Japan called "Lipo-fine," an energy drink for women with 0% sugar in a mixed berries flavor, offering a new consumption experience for Thai women."
Osotspa maintained its number one position in the Thai energy drink market during the first quarter of 2021 with a market share of 54.9%. The core M-150 continued to gain 80 bps YoY in market share and the herbal variant under Som In-Sum Plus launched in 2020 contributed to overall portfolio growth. During the first quarter of 2021, M-150 ZA, a 180 ml carbonated energy drink in can format, was launched offering energy boosting, low sugar, enriched with vitamins, and refreshing taste.