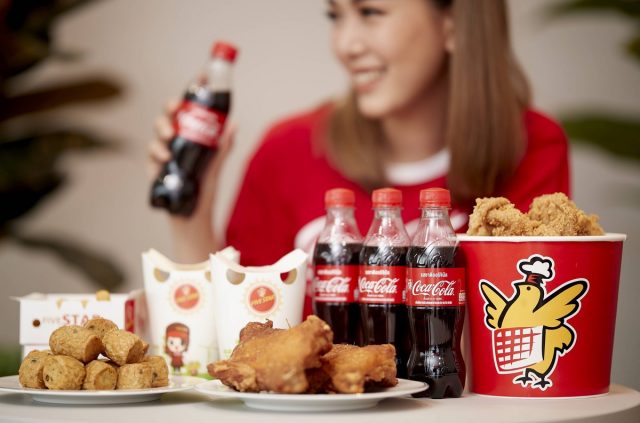 Thursday 17 June 2021 –  The Coca-Cola system in Thailand, which comprises ThaiNamthip Ltd., HaadThip plc., and Coca-Cola (Thailand) Ltd., has entered into a partnership with Five Star Business, Charoen Pokphand Foods PLC (CPF), that is set to delight Thai consumers by combining Five Star food products with 'Coke' beverages.
This partnership combines the stregths of Five Star Business, the popular food franchise market leader, and Coca-Cola, the leader in the soft drinks market in Thailand, offering marketing activities to promote excellent value and enhancing the taste of a meal by combining it with a refreshing 'Coke'.
Mr. Tanaporn Khositaphai, Senior Vice President – Commercial of ThaiNamthip Ltd., said: "Responding to ever-changing consumer needs is one of the key business commitments of Coca-Cola and that's why the company focuses on developing innovative, world-class products and a wide range of experiences, allowing 'Coke' to become a refreshing drink that elevates the taste of every meal. In addition, we are continually working to provide consumers with convenient access to our products across different channels. The partnership with Five Star Business represents significant synergy that will help expand the customer base and grow the business for both brands. With our combined years of experience and business success, Coca-Cola and Five Star Business will bring exciting marketing and promotions to happy customers, highlighting the pairing of refreshing 'Coke' and delicious Five Star food."
Mr. Sunthorn Jaksukan, Senior Vice President, Five Star Business, Charoen Pokphand Foods PLC (CPF), said: "Five Star Business is currently the number one popular food franchise in Thailand for 2020[1]. We have been with Thai people for more than 36 years and are able to reach all consumer groups with outstanding food products that are well-known, freshness, safety, and delicious with reasonable prices, along with great service and convenient locations. We have more than 6,000 branches nationwide and more than 1,600 branches abroad. Five Star Business is confident that this partnership with Coca-Cola, the world-class beverage brand, will help expand our customer base. We are confident we can develop great value and marketing promotions that create happiness and deliver a delicious experience to consumers."
Under this collaboration, Coca-Cola will provide Five Star Business consumers nationwide a great-tasting experience with its popular 'Coke' Original Taste. Moreover, both brands are preparing marketing activities to provide consumers with unique experiences, including marketing promotions, consumer communication activities, and promotions with many food aggregators. These include a special offer running until June 30, 2021, where customers can buy a combo set of two original 'chicken rolls' with a 'Coke' at a special price of 50 baht.
Consumers can enjoy tasty meal and drink combinations from Five Star Business and Coca-Cola today at Five Star franchises nationwide. To get updated news, activities and special promotions of Five Star foods and 'Coke' combo sets throughout the year, please follow us at www.facebook.com/cocacolaTH and www.facebook.com/Fivestarbusiness.