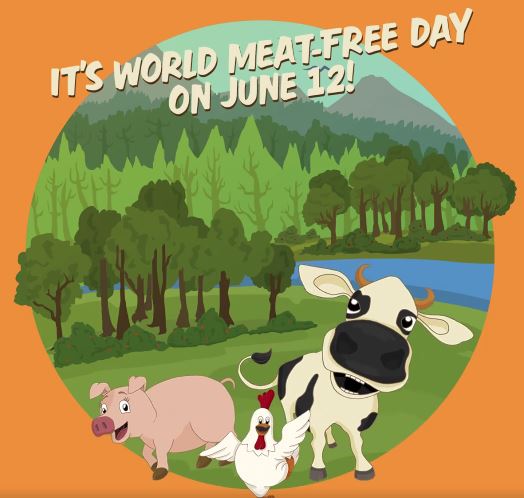 My recent Twitter post on NUCO Coconut Vegan Mayo (Made with Coconut Oil and Avocado Oil) has attracted a lot of attention from Philippines social media users. NUCO Coconut Vegan Mayo is made by Prosource International Inc and was launched in Nov 2016.
I first saw this product at the Taipei International Food Show in June 2017.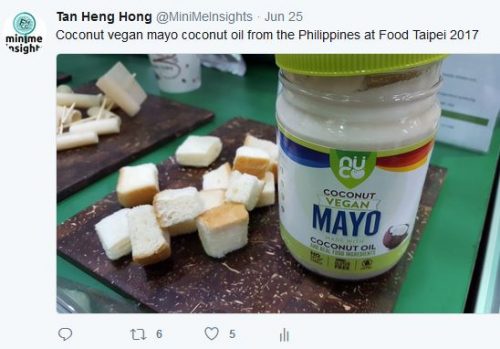 This led me to dig deeper to try to understand why a vegan product receives such a strong interest in a country not known for being vegan friendly.
Google Trends validates assumption of the rising in interest in vegan
The first port of call is Google Trends. The data shows there is indeed a slow but rising in the interest in "vegan" as a keyword search in the Philippines. This is a strong indicator that Internet users in the Philippines are actually showing interest in the vegan lifestyle. The top five related queries are "vegetarian", "vegan diet", "vegan recipes", "vegan meaning" and "vegan food."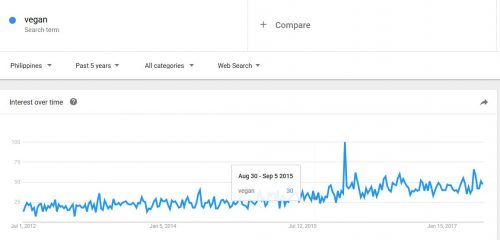 Quorn changes meat-eating lifestyle
The launch of Quorn (owned by Monde Nissin) in the Philippines at the end of 2016 reveals a demand for meat-free substitute.
"Younger, more educated consumers are seeing the need to reduce meat consumption for health and sustainability reasons. While we have just launched in the Philippines, strong early sales reinforce evidence of this trend," said Quorn CEO Kevin Brennan quoted by inquirer.net on 17 April 2017.
For a better world
The embrace of the vegetarian diet in Thailand, China and among the ethnic Chinese in Southeast Asia is driven by the Buddhist/Taoist religions. In the predominately Roman Catholic Philippines, the shift towards a vegan diet is driven mainly by ethical, the desire to protect the welfare of animal and to reduce the impact on the environment.
People for the Ethical Treatment of Animals (PETA) has a strong influence in some people who cited the unnecessary killing of animals as the reason why they go for a meat-free diet, according to a survey by inquirer.net. Others mentioned the influence of mass media like the documentary The Earthlings, documenting the suffering endured by animals at factory farms, puppy mills and research labs, and a short clip on the internet "Dairy Is F**king Scary!"
What Mini Me thinks
The meat-free trend in the Philippines has leg to grow especially among millennials who are more likely to embrace ethical consumerism.