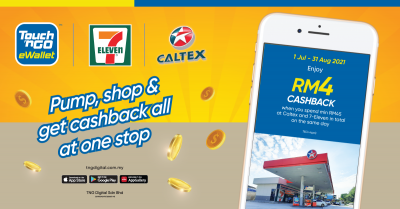 KUALA LUMPUR, 1 JULY 2021 – The largest stand-alone convenience store-chain nationwide, 7-Eleven Malaysia has recently partnered with Touch 'n Go and Caltex™ to launch a cashback combo campaign from now until August 31, 2021, where customers are rewarded with great cashback after fulfilling the requirements.
To enjoy the attractive reward this campaign has to offer, participants will only have to follow two simple steps. Firstly, pump a minimum of RM30 worth of petrol at participating Caltex stations using Touch 'n Go eWallet payment method. Next, spend a minimum of RM15 at participating 7-Eleven stores attached to the Caltex stations on the same day using Touch 'n Go eWallet again. Within three working days, RM 4 cashback will then be credited into the participant's Touch 'n Go eWallet – it's as simple as that!
For more information on the 7-Eleven x Caltex x Touch 'n Go cashback combo campaign, visit www.7eleven.com.my or our official social media pages at 7ElevenMalaysia.