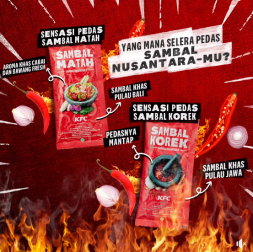 KFC Indonesia is creating a buzz on social media with the launch of its latest Sambal Nusantara KFC that comes with two spicy sensations – Sambal Korek and Sambal Matah. Usually, KFC will offer its sauces for free but with Sambal Nusantara, the price is IDR 5,000 (before tax) per sachet.
Sambal Korek comes from the island of Java, while Sambal Matah is from Bali.
What we suspect is KFC might be turning this sauce into a take-home sauce to broaden its revenue.