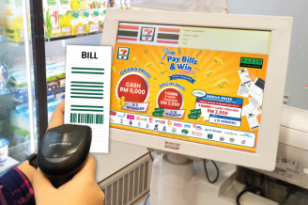 KUALA LUMPUR, 19 July 2021 – 7-Eleven Malaysia, the largest 24-hour standalone convenience store operator nationwide, is rewarding its customers once again with the Jom Pay Bills & Win contest with over RM60,000 worth of cash and e-vouchers to be won! The contest, co-powered by Razer Merchant Services, is open to all 7-Eleven customers nationwide from now until 19 September 2021.
Throughout the contest period, customers can submit as many entries as they can when they make bill payments in 7-Eleven stores nationwide to stand a chance to be one of the two Grand Prize winners who will walk away with RM5,000 cash each or one of the 10 Special Prize winners who will be rewarded with RM2,000 worth of 7-Eleven e-Cash voucher each.
As an added bonus, those that are paying their Indah Water Konsortium bills will also be in the running to be one of the 15 chosen ones that will take home a 7-Eleven RM2,000 e-Cash voucher.
Submitting your entry is so simple! Firstly, pay any participating partners' bill at any 7-Eleven store. Secondly, fill in the Jom Pay Bills & Win contest form on your payment receipt. Lastly, submit your entry to the cashier or place your entry into the contest box. That's it – you're set! One thing to take note of is that entry must be submitted in full payment receipt with contest form. Additionally, remember to request for a reprint of your payment receipt if you need a copy for your own reference.
The best part? There is no limit to the number of entries each person can submit! To stand a better chance of being one of the winners, be sure to make as many bill payments as possible at your nearest 7-Eleven stores.
7-Eleven Malaysia's General Manager of Marketing, Ronan Lee said: "We appreciate our customers and are always looking for new ways to reward them for their loyal support. By teaming up with participating bill payment partners, we aim to provide convenience and value to our customers as we are Always There For You."
"At 7-Eleven Malaysia, we aim to encourage our customers to leverage the bill payment service provided at our stores by giving them a chance to be one of the 27 lucky winners gifted with jaw-dropping prizes. Don't wait, come on over to 7-Eleven now and stand a chance to be rewarded through our Jom Pay Bills & Win contest," Lee added.
Participating Billers
Air Darul Aman (SADA)
Air Kelantan (AKSB)
Air Kuching (Kuching Water Board)
Air Melaka (SAMB)
Air Negeri Sembilan (SAINS)
Air Pahang (PAIP)
Air Perak
Air Selangor / Syabas
Air Terengganu (SATU)
Astro
Celcom
Indah Water Konsortium
Majlis Bandaraya Alor Setar – Tax
Majlis Bandaraya Seberang Perai – Rental, Tax & Compound
Majlis Perbandaran Kota Bahru – Rental & Tax
Majlis Perbandaran Subang Jaya – Tax
RedOne
Sabah Electricity (SESB)
SAJ (Ranhill SAJ Sdn Bhd)
Sarawak Energy
Singer
Tenaga Nasional Berhad
TIME
TM / Unifi
U Mobile
YES
*Other participating billers may be added on during contest period, subject to activation.
For more information on the Jom Pay Bills & Win contest and full terms and conditions, please visit www.7eleven.com.my or follow 7-Eleven Malaysia's official social media pages at 7ElevenMalaysia.