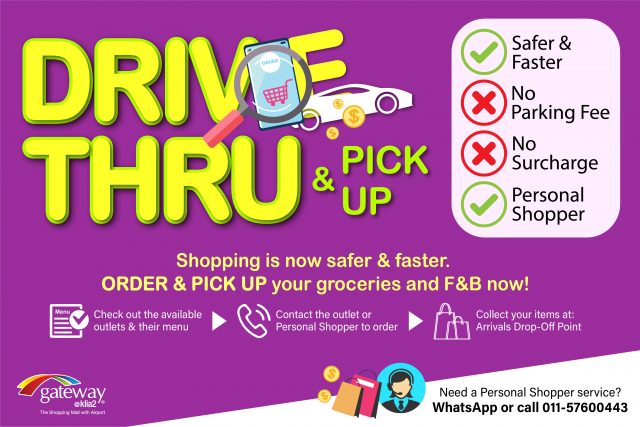 SEPANG, 26 July 2021 – gateway@klia2, the airport mall at klia2, introduces Drive-Thru & Personal Shopper Services in an effort to reduce contact in view of the current pandemic situation and to provide shoppers with a convenient, safe, hygienic and seamless shopping experience.
As Malaysian shopping culture continues to evolve especially due to the changing consumer behaviour and restrictive movements, this service is aimed to re-connect with gateway@klia2's valued shoppers by offering an effortless and convenient shopping experience to best suit the surrounding communities' needs during the pandemic.
Shoppers are encouraged to pre-order their groceries, necessities and F&B directly from participating tenants or through gateway@klia2's Personal Shopper via WhatsApp at 011-5760 0443. The personal shopper will assist to shop, check, and purchase the items on behalf of the customers, and customers may then drive-thru and pick-up their goods at Arrivals Door 2. Shoppers can enjoy a safe shopping experience with minimal interaction from the comfort of their vehicle.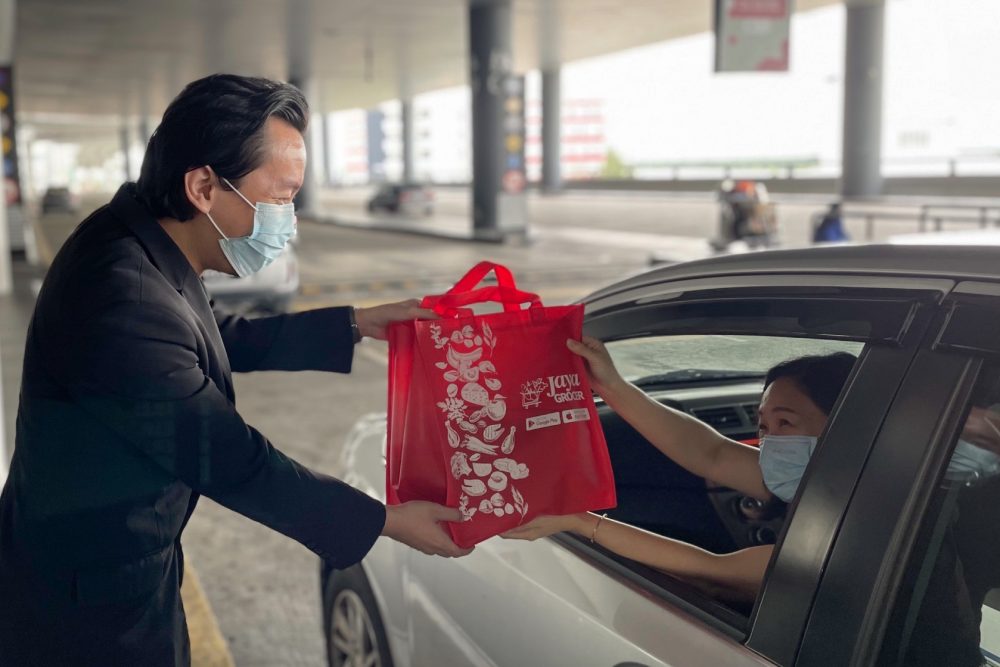 Participating stores and restaurants include Jaya Grocer, Family Mart, Watsons, Guardian, Auntie Anne's, Gong Cha, Aerotel and more. Once more tenants resume business and upon the lifting of restrictions in accordance with the Standard Operating Procedures by the relevant local authorities, shoppers can enjoy the services across many more retail outlets.
"The pandemic has significantly impacted the retail industry. As we look out for the wellbeing and safety of our shoppers, we believe it is important for us to adapt to the changing landscape by innovating our services and providing our shoppers the peace of mind with a safer shopping experience," added Selena Chua, Chief Executive Officer – WCT Malls Management.
Strict safety and hygiene measures are observed throughout this process with frequent and scheduled sanitisation carried out at all touchpoints to offer shoppers a sense of satisfaction.
Check out http://gatewayklia2.com.my/drivethru/ for the participating outlets and guides to Drive-Thru and Personal Shopper Service. Shoppers can drive-thru, maintain social distancing and collect their items without any hassle or even incurring any parking fee. It is fast, easy and convenient!
For more information about the festivities and promotions of the mall, kindly visit the: –
Website: www.gatewayklia2.com.my
Facebook page:  https://www.facebook.com/gatewayklia2/