Fill the hearts and bellies of your loved ones with specially curated collections delivered right to your doorstep
Singapore, 29 July 2021 – With stricter COVID-19 measures putting a damper on dining out plans with friends and families, Fairmont at Home has launched an array of epicurean collections and hampers that can be delivered right to the doorstep to delight palates and make anyone's day.
Thoughtfully curated by the Hotels' well-regarded culinary and sommelier teams, the diverse packages range from restaurant-quality premium products to handcrafted gourmet signatures from award-winning establishments across Fairmont Singapore and Swissôtel The Stamford. Selectively paired with quality tipples, these culinary collections are set to whet appetites and perk up spirits during this period of dine-out curbs.
From now to 30 December 2021, Accor Plus members get 10% off Ready Meals. Accor Live Limitless members earn 3X Accor Live Limitless Reward points for all purchases from now till 31 August 2021.
Penchant For the Finer Things in Life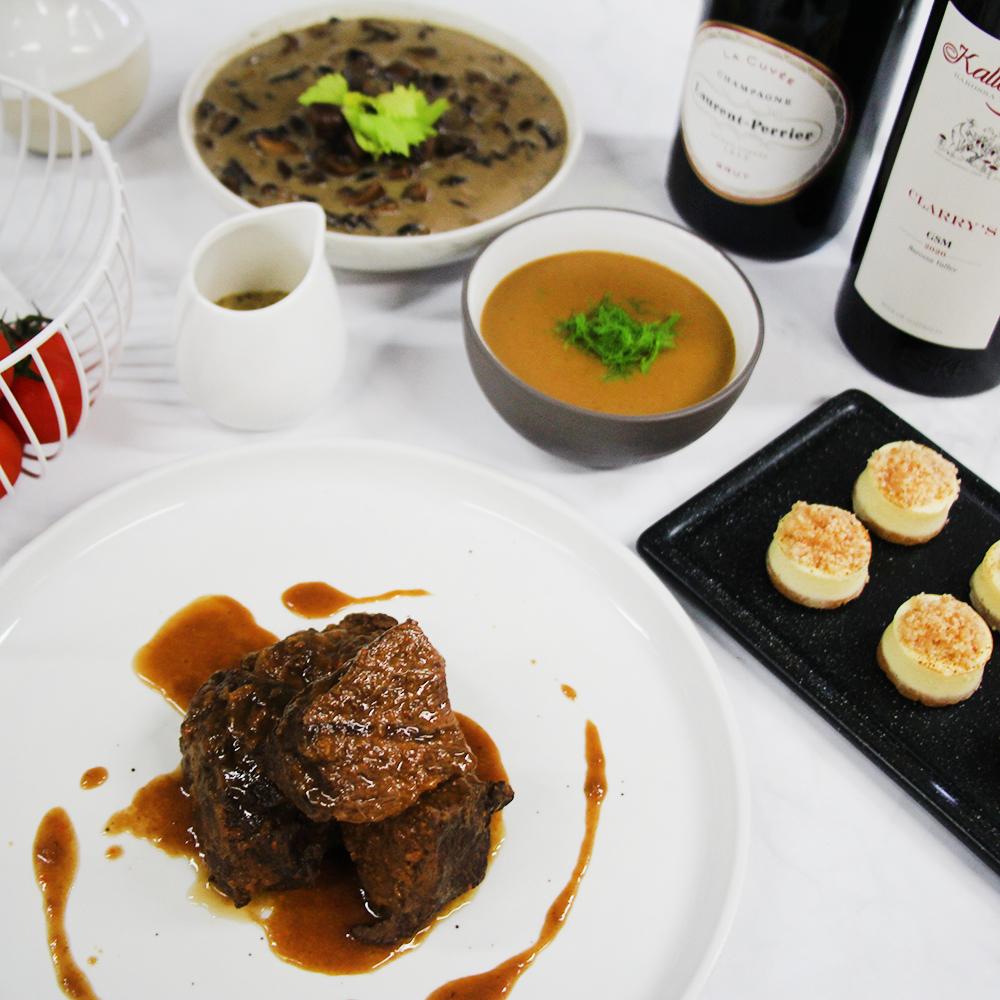 Indulgent gourmands will appreciate SKAI Collection's ($190 for 2 persons) touch of contemporary European culinary flair. Comprising a classic lobster bisque; creamed mushroom ragout; braised tender Australian Angus beef cheeks; and a delectable cheesecake, this bundle is a four-course meal complete with two bottles of wine, sides like sweet vine cherry tomatoes and asparagus, as well as SKAI's signature mustard sauce.
Luscious and Wholesome Dishes for Communal Dining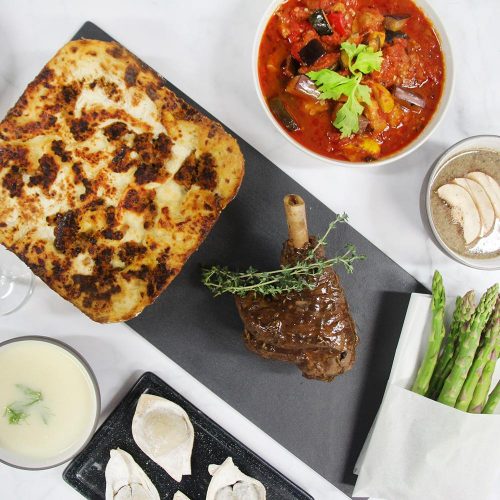 Choose between the flavour-packed combinations of Prego and Asian Market Café to delight the tastebuds of those who have a love for tantalising tastes. Prego's Family Collection ($360 for 4 to 6 persons) is made up of red wine braised lamb shank, the old-time favourite beef lasagna; ravioli made with fresh scallops; and Norwegian cod to create a convivial Italian meal at home. The Asian Market Café Collection ($100 for 4 to 6 persons) features perennial local favourites such as the intensely rich and flavourful slow-cooked Australian beef rendang; Assam fish curry; and the delightful durian pudding – the ideal gift to complement any celebratory occasion at home.
Delectable Treats for an Indulgent Afternoon at Home 
Lift the spirits of loved ones by surprising them with a decadent afternoon treat. Anti:dote Afternoon Tea's ($124.10) assortment of savoury and sweet bites are the ultimate palate indulgence for two. Highlights from the artisan selection include delectable sandwiches of salmon gravlax and homemade duck confit; satisfying sweets like macarons and madeleines; and scones filled with lemon butter curd, Devonshire clotted cream and strawberry marmalade. Complemented with a selection of exquisite TWG teas, the package will give new meaning to a pampering afternoon. The Savoury Pie Collection ($100) of slow-baked minced beef pie and smoked ham and cheese quiche also makes a satisfying tea-time snack for savoury lovers.
Gourmet Collections for Budding Home Cooks
Meat-lovers as well as budding and experienced home cooks alike will rejoice in receiving a package like the Meat Collection ($200), filled with a plethora of succulent premium meat such as Australian grain-fed Angus beef cheek and grass-fed minced beef.
The Burger and Beer ($105) collection is a do-it-yourself kit with all the ingredients needed to make a mouth-watering burger, including an Angus beef burger patty. Paired with BBQ spiced pork ribs, this collection will satisfy the voracious appetite of meat eaters.
Palate-pleasing Tipples for Your Own Happy Hour
Bring the bar to the homes of your favourite drinking buddies by sending them a Hamper of Laurent-Perrier & Anti:dote Bottled Cocktails ($288) to recreate Friday 'happy hours' over Zoom. The collection of eight bottled cocktails include Bergamot Martini, a twist on the classic Dry Martini, and the Queen's Favourite, a mix of Gin and Dubonnet, a coffee bean infused fortified wine.
These 'just because' collections come with a custom handwritten note for all your heartfelt greetings. Fairmont at Home also offers e-gift cards in various denominations so picky palates can make their own choices on the one-stop online platform.