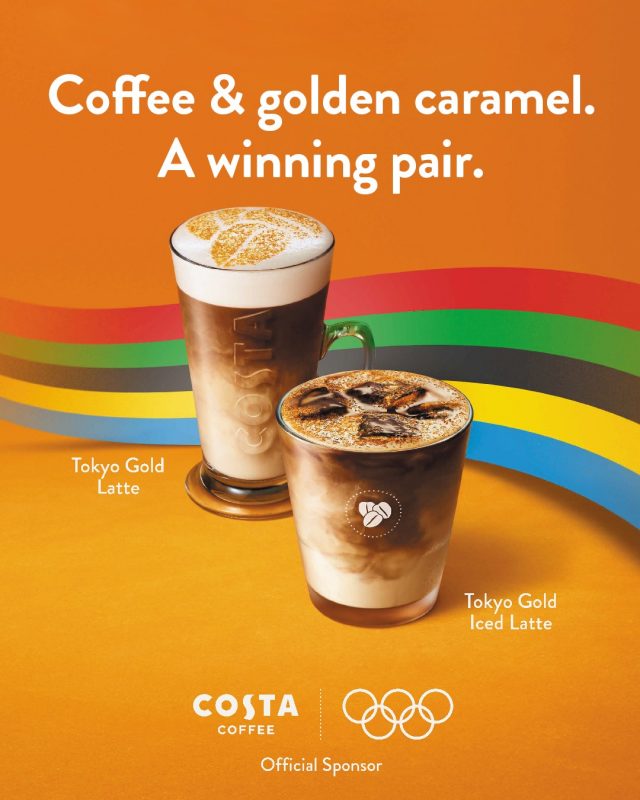 Costa Coffee raises the bar with the introduction of its new Golden Caramel beverage menu across its nationwide outlets, in partnership with the Olympic Games Tokyo 2020
KUALA LUMPUR, 6 AUGUST 2021 – Costa Coffee has recently announced the debut of its new Golden Caramel range to celebrate its sponsorship of the Olympic Games Tokyo 2020 this year. This new flavour range is available at over 253 Costa Self-Serve machines nationwide, including three Costa Coffee stores in Bangsar Shopping Centre, Radia Bukit Jelutong, and Q Sentral Mall. The range introduces a menu of Tokyo Gold Latte, Tokyo Gold Iced Latte, Tokyo Gold Frostino, and the Golden Tokyoccino beverages in both hot and cold options at Costa Coffee Stores while Golden Caramel Latte and Chocolate, hot and iced drinks are available at Costa Coffee Self-Serve Machines nationwide.
"Costa Coffee's 'In pursuit of perfection since 1971' along with the Golden Caramel range shows that no Costa Coffee is ever just a coffee, but it is the result of a 50-year commitment to quality and an unrelenting pursuit of coffee perfection. Similarly, it can be applied to everyday life, pushing us day in and day out to achieve greatness. The range was created with a thought to cater to everyday Malaysians with a knack for local flavours and it gives 'perfection' a whole new meaning. It is about embarking on a journey of dedication and daily commitment in pursuit of perfection that makes the difference. We hope to continue to inspire Malaysians, especially in these trying times to persevere and keep moving forward as a nation to the path of recovery as our finish line," said Lim Ju Lee, Head of Marketing, Costa Coffee Malaysia.
Malaysians can enjoy a perfect cup of coffee with Costa's Golden Caramel range, available from now till 24 August 2021. The Golden Caramel range of drinks with its specially designed cups inspired by the Tokyo 2020 games are available at 253 Self-Serve machines nationwide and at Costa Coffee Stores, conveniently located within the Klang Valley. Costa Coffee is also available via food delivery from both Costa Self-Serve Machines and Costa Coffee Stores.
For more information on Costa Coffee's new limited-time Golden Caramel drinks, please visit the below channels to stay tuned for more updates: