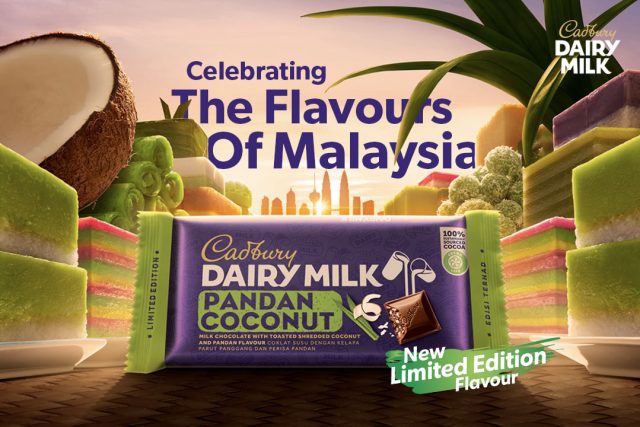 The beloved chocolate brand celebrates local flavours
by spotlighting kuih stalls with the new limited edition variant
KUALA LUMPUR, 9 August 2021 – Seri Muka, Ketayap and Onde-Onde…these classic kuih-muihs share flavours that are synonymous with the nation's identity – Pandan Coconut. As a tribute to the familiar tastes that shape our nation's identity, Cadbury Dairy Milk is excited to introduce their latest innovation, Cadbury Dairy Milk Pandan Coconut which blends the brand's signature smooth milk chocolate with fragrant pandan and dried coconut bits. With this new flavour, the brand also aims to evoke the attribute of generosity amongst Malaysians to support local kuih vendors who have been adversely impacted by the current pandemic through an initiative themed #MYCadburyFlavours.
Made with Malaysians in mind, Cadbury Dairy Milk Pandan Coconut is the third limited edition localised variant from Cadbury Malaysia since 2018, following the well-received Cadbury Dairy Milk Kopi C and Cadbury Dairy Milk Durian in previous years. The iconic local heritage flavour of aromatic pandan and sweet coconut remains another timeless flavour that has been fondly enjoyed by Malaysians through generations.
In celebration of Cadbury Dairy Milk Pandan Coconut and the flavours of Malaysia, Cadbury Malaysia is giving back to the community that was part of the local flavour inspiration by putting their businesses on the map through the hashtag #MyCadburyFlavours. With the collective effort of Malaysians through the hashtag, Cadbury Malaysia will be creating a digital presence for selected vendors by promoting their businesses through paid adverts on social media. 
The pandemic has caused many small-scale local businesses to struggle to survive. In times like these, it's important that we continue to uphold our resilience as a nation and help one another. To achieve this, the brand hopes to give our local heritage heroes the recognition they deserve by raising awareness for them in order for them to sustain their businesses, and supporting their livelihoods through this campaign.
Join Cadbury Dairy Milk Malaysia in spotlighting our local kuih stalls. The Instagram-led campaign builds on Malaysian's deep affinity towards food by welcoming individuals to share their favourite kuih stalls in a collaborative effort to curate an easily accessed feed that ultimately works to create awareness and support for our fellow Malaysian kuih sellers who keep flavours like Pandan Coconut alive. To be part of the movement, the steps to participate are simple*:
Share your favourite local

kuih

stalls or vendors with the hashtag

#MyCadburyFlavours

and tag

@Cadbury_MY

Pin the location (where applicable) or include the name and location of the stall in your caption

Alternatively, you could check out the feed via the hashtag and discover a new gem close to home.**
*Your participation in the CDM Merdeka Campaign signifies your consent to the usage of your pictures and captions for future marketing, advertising and promotional activities of the organizer without any compensation or notice whatsoever.
**Cadbury Dairy MIlk Malaysia actively encourages Malaysians to stay safe, exercise caution and adhere to local SOPs where applicable in effort to reduce the spread of COVID-19. 
"For almost 50 years, Cadbury Dairy Milk has captured the hearts of Malaysia consumers through its variety of chocolate product flavours. We are overwhelmed by the continuous support of our Malaysian consumers and it is through exciting localised products like Cadbury Dairy Milk Pandan Coconut that we showcase our appreciation and commemorate the brand's long-standing presence here in Malaysia. As a brand that champions generosity, we are excited to launch not only a product but a campaign that goes beyond to spotlight our local kuih sellers who continue to preserve these classic flavours and we hope we can come together as a nation to continuously #SapotLokal and help our local business owners pull through this challenging time," shared Arpan Sur, Head of Marketing for Mondelez International, Malaysia and Singapore.
Exclusively available from the month of August, Cadbury Dairy Milk Pandan Coconut is available at major Hypermarkets and Supermarkets nationwide as well as e-commerce platforms, Shopee and Lazada, with a recommended selling price of:
RM 2.90 for 37g

RM 8.50 for 160g
Learn more about Cadbury Dairy Milk Pandan Coconut and #MYCadburyFlavours by visiting the official website www.cadbury.com.my or stay connected via the brand's Facebook (www.facebook.com/CadburyMalaysia) and Instagram (www.instagram.com/Cadbury_MY) pages.