August 2, 2021 – Otsuka Pharmaceutical Co., Ltd. (Head office: Tokyo, Japan; President: Makoto Inoue) (Otsuka) and Amerta Indah Otsuka (Head office: Jakarta, Indonesia; President and Director: Yoshihiro Bando) (AIO) have announced the launch of production and sale of dietary fiber beverage Fibe-Mini in Indonesia*1.
Influenced by westernization of lifestyles, Indonesian consumption of dietary fiber is declining. Despite guidelines recommending daily consumption of 30g, reports indicate daily intake of merely 8g*2, suggesting a serious lack of dietary fiber compared to intake in Japan. In addition to deterioration of gastrointestinal condition, lack of dietary fiber is thought to increase the likelihood of chronic illness, and the launch of a beverage that offers an easy way to supplement dietary fiber is generating high expectations in the Indonesian market.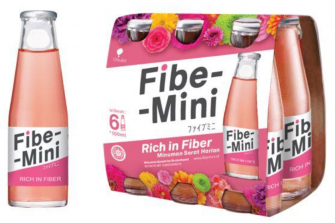 Fibe-Mini was launched in Japan in 1988 as a beverage to supplement intake of dietary fiber, an entirely new product category. Providing a delicious way to consume dietary fiber equivalent to 1.5 heads of lettuce*3, Fibe-Mini, with its refreshing lightly carbonated flavor, became the focus of considerable interest in Japan. In 1996, Fibe-Mini was approved as a food for specified health uses (FOSHU), labeled as a "dietary fiber beverage that helps regulate gastrointestinal condition." Launched in Korea in 1990, Fibe-Mini has contributed to maintenance and promotion of health though intake of dietary fiber in Japan and overseas. The current launch of production and sales by AIO aims to address the problem of inadequate dietary fiber intake in the Indonesian market.
To coincide with the Indonesian market launch of Fibe-Mini, approved in Japan for indication as a Food with Specified Health Uses, Otsuka will maximize accumulated know-how developed to raise awareness of the importance of dietary fiber and its health benefits.
Regarding the product launch, AIO president and director Yoshihiro Bando commented: "Based on our corporate philosophy of 'Otsuka-people creating new products for better health worldwide,' we have contributed to health and wellbeing in Indonesia with products such as POCARI SWEAT, SOYJOY and ORONAMIN C DRINK. With the launch of Fibe-Mini, we hope to offer new proposals based on scientific evidence to further support the health of Indonesian people."
Online sales from late July; in-store distribution from early August
BPOM 2016
Based on Standard Tables of Food Consumption in Japan: 1 head of lettuce = 300g fiber
The price for a 100ml bottle of Fibe-Mini is IDR 7,300 at klikindomaret.com, which is more expensive than Oronamin C (120ml) selling at IDR 6,500.
Fibe-Mini competes with Kalbe Farma's Kalbe Nutrive FiberShot. Both products are shelf stable.