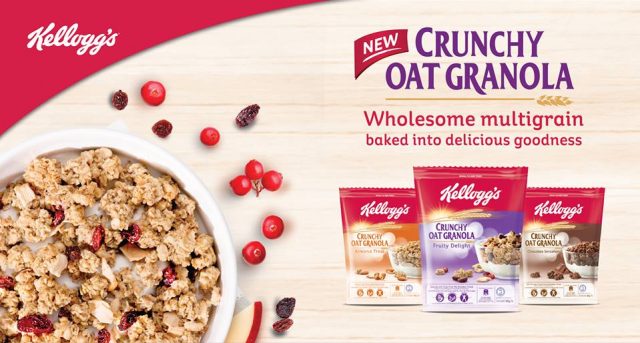 Kellogg's Malaysia has unveiled the new Crunchy Oat Granola in July 2017. It is available in three variants – Fruity Delight (real fruits), Almond Treat (real nuts) and Chocolate Sensation (Belgian chocolate). The new product is marketed as "a tasty and nutritious way to start your day right".
Rising interest in granola
Google Trends 5-year data reveals a rising interest in granola among Malaysian Internet users especially starting from mid-2016. This can be partly explained by the growing availability of granola in supermarket shelves and awareness about its benefits.

Each 380g pack is priced at RM 20.99 (discounted price of RM 19.99 at Giant). It comes with a resealable pack.
The granola can be consumed with milk or yogurt.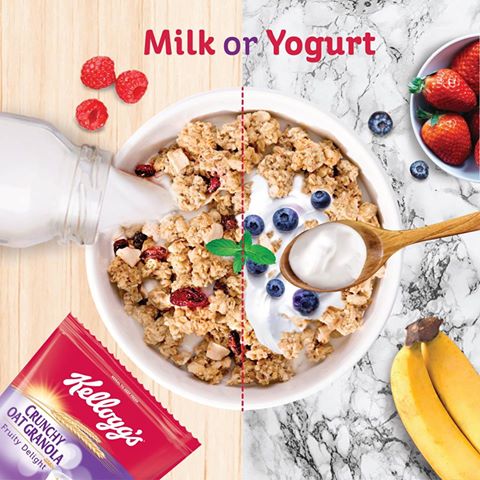 Kellogg's granola available in China since 2016
A similar product was made available by Kellogg's (家乐氏) in China in 2016. The Kellogg's Tasty Delight Granola (谷兰诺拉) comes in individual sachets and is available in peach and mixed fruits. Similar to the Kellogg's Crunchy Oat Granola in Malaysia, the targeted occasion is breakfast.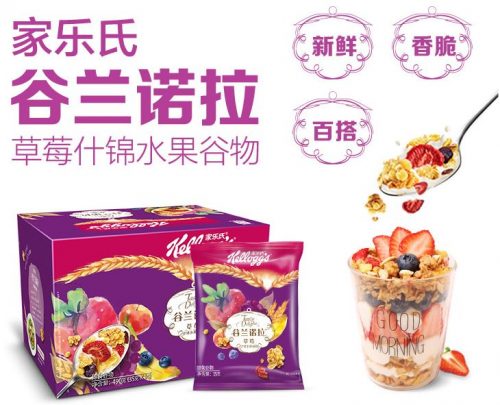 New Kellogg's rose variant
There is also a new rose variant (家乐氏谷兰诺拉恋香玫瑰什锦), which has just been released. The new granola contains rose petals, rice, wheat, maize, oat and raisins. Clearly, this is aimed at office ladies.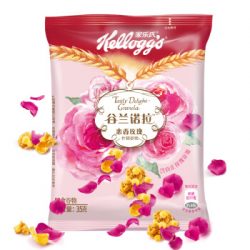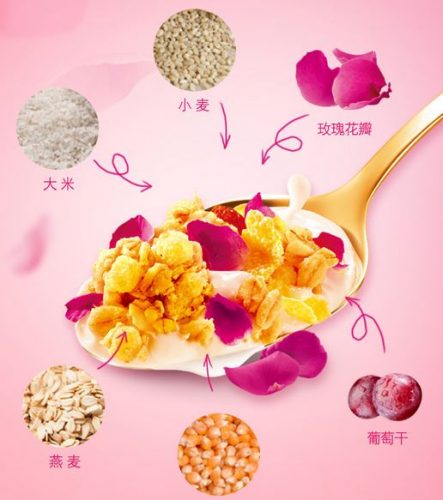 The Tasty Delight Granola Rose conveys the message of providing the consumer with a beautiful day. The sachet can easily fit into the handbag and can be consumed together with yogurt in style in a transparent cup.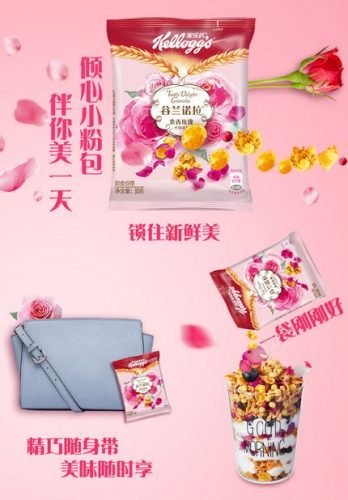 The iPhone is used as a comparison to give consumers a sense of the size of the sachet.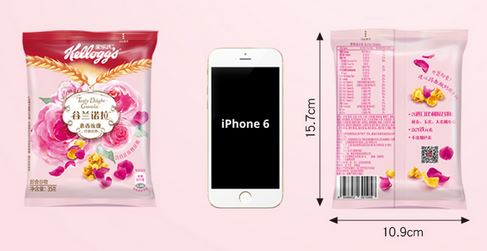 The company highlights the high nutritional contents of Kellogg's Tasty Delight by comprising it with other common breakfast items in China like bread and steamed bun.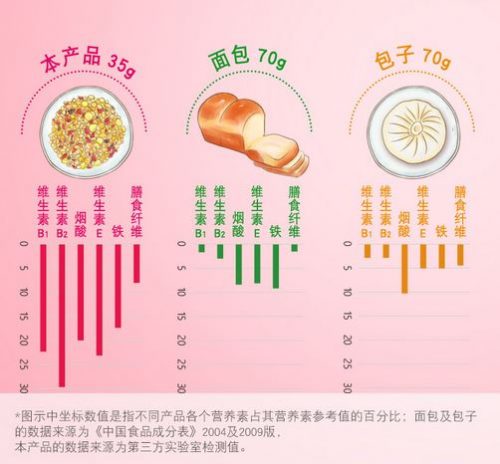 Click here for more information on Kellogg's Tasty Delight Rose
What Mini Me thinks
Clearly, beautiful packaging, commonly described as 颜值 (yanzhi) or face (颜) value (值), plays a vital role in marketing a product in China. A person or a thing with a very high-valued face is called 高颜值 (gao yanzhi). There is a strong need to create a buzz through novel idea such as adding rose petal when targeting the female audience.
In Malaysia, brand owners behave differently. The focus is more on a neutral, contemporary design with less flowery use of colours.