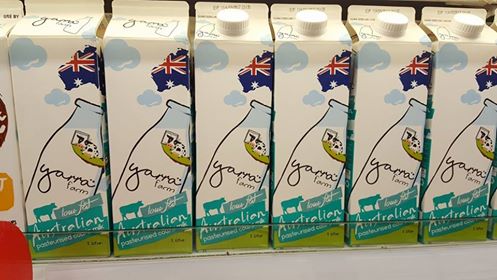 New Yarra Farm in milk carton
Farm Fresh Milk Sdn Bhd has added 1L milk in carton packaging for its Yarra Farm range in Malaysia. The existing Yarra Farm Australian pasteurised cow's milk is sold in a plastic bottle packaging and was first seen by the author in early 2017.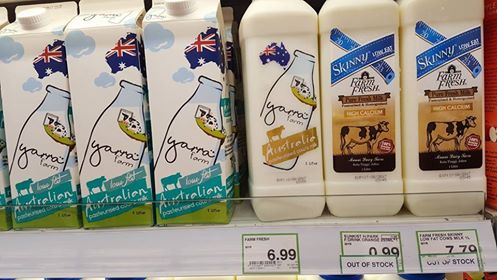 New Yarra Farm in milk carton on the left. Existing Yarra Farm in plastic packaging in the middle. Farm Fresh low fat pasteurised milk on the right. Photograph taken at Cold Storage.
Milk carton supplied by Evergreen Packaging
The most interesting thing about the new Yarra Farm in milk carton is unlike other companies which go for Tetra Pak or SIG Combibloc, Farm Fresh picked the lesser known US-based Evergreen Packaging as its milk carton supplier. In Asia, Evergreen Packaging offices are located in Shanghai, Taipei and Ansan in South Korea.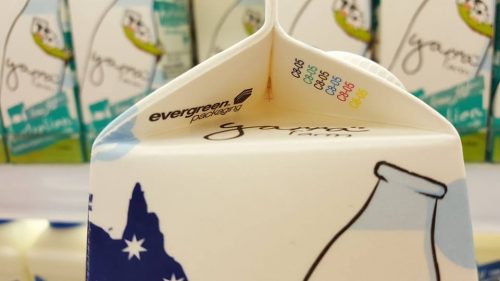 Cheaper than Farm Fresh with local milk
The Yarra Farm low-fat milk (RM 6.99) is made from 100% imported Australian cow's milk whereas the Farm Fresh low-fat milk is made from 100% fresh cow's milk (RM 7.79). Interestingly, Yarra Farm with is Australian milk credential is cheaper than Farm Fresh with 100% fresh cow's milk.
The price difference comes from the freshness guarantee of Farm Fresh where the milk is delivered fresh from farm to the store within 48 hours.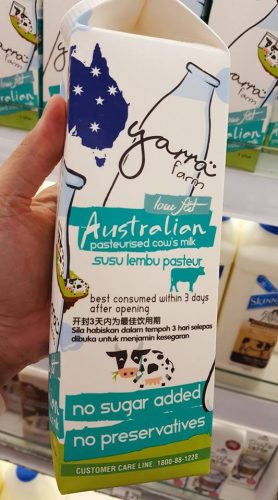 Nutrition facts
The only difference in the nutrition fact is Yarra Farm has a slightly higher energy at 51kcal per 100ml compared with Farm Fresh with 47kcal.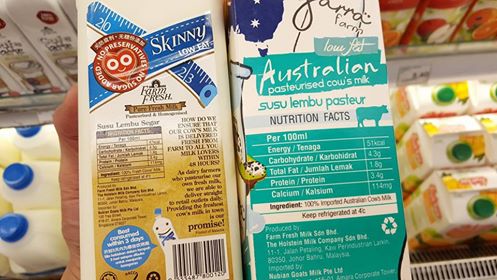 What Mini Me thinks
The Yarra Farm brand is still a mystery. Consumers who failed to look at the fine print at the back will not know it is a product by Farm Fresh. However, the unique selling points for Yarra Farm are low price and Australian milk origin.
There is no mentioning of Yarra Farm in the official Farm Fresh Milk Malaysia Facebook site, which shows the company is trying to disassociate itself from the new brand.