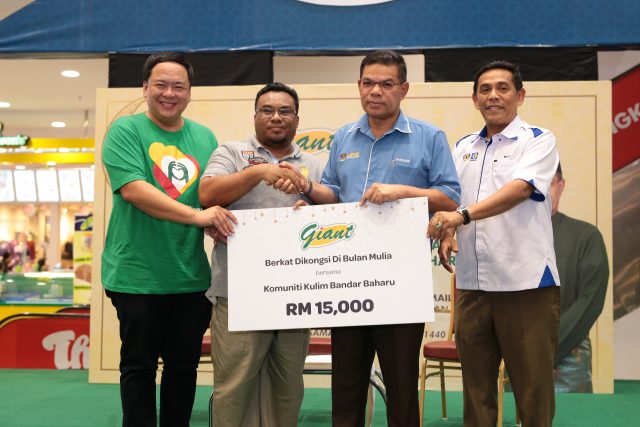 SELANGOR, 10 June 2019 – In the spirit of the holy month of Ramadan that is filled with blessings and the sharing of joy, Giant Malaysia is running a Corporate Social Responsibility (CSR) program throughout the Ramadan month with the theme of 'Berkat Dikongsi di Bulan Mulia' to give back to the community, supported by more than 200 Big Hearted Giant volunteers.
Giant Malaysia has always been at the forefront of taking responsibility in ensuring the nation's environmental and social well-being. This Ramadan's community service and outreach initiative is part of Big Hearted Giant various initiatives to support local and underprivileged communities around the country.
Giant returns with its 7th Annual Bubur Lambuk programme in collaboration with TV Al-Hijrah for the third year running. This collaboration with TV Al-Hijrah saw special appearances by TV Al-Hijrah celebrities bringing in joy and smiles to the recipient during the bubur lambuk distribution. A total of 20,000 tubs of bubur lambuk has been distributed at more than ten locations throughout Malaysia including a few locations in East Malaysia.
Giant is passionate about ensuring that each and every person, from all walks of life, be able to enjoy the celebration. The team visited Madrasah Ma'ahad Tahfizul Quran to distribute the bubur lambuk together with other non-perishable items and necessities such as rice, flour, sugar, condensed milk, toiletries, laundry detergent and more to a total of 52 Rohingya refugee students at the Madrasah. The team also distributed the bubur lambuk at Homeless Transit Centre and visited Kuala Lumpur Hospital's pediatric ward to bring some cheer to the 50 children and the parents who are in the hospital and the nurses who work tirelessly to care for them.
Giant, a trusted household brand, has always committed to providing the best value and quality to the customers while also encourages goodwill, especially during the Ramadan season. Giant recently collaborated with Nestle Malaysia to set up the donation bin at 39 stores throughout Malaysia, allowing its customer to do charity while shopping at Giant. The campaign runs from 6th to 31st May 2019. The collection, which consists of numerous Nestle products will be donated to the 10 charity homes which will benefits more 500 underprivileged recipients.
Staying true to its theme of 'Berkat Dikongsi di Bulan Mulia', Giant Malaysia contributed RM15,000 to three underprivileged homes, Teratak Nur Barakah, Rumah Amal Cahaya Tengku Ampuan Rahimah and Pertubuhan Kebajikan Ehsan Ash-Shakur to help ease their Raya preparation at the recent re-launched of Giant Hypermarket Batu Caves. Apart from that, Giant Malaysia also partnered with the Ministry of Domestic Trade and Consumer Affairs in providing 150 people from the Kulim Bandar Baharu community the chance to complete their Raya shopping with Giant.
While the underprivileged communities are often overlooked especially during festive periods, it is Giant's hope that their contribution has helped spread some cheer, goodwill, and the spirit of togetherness in the hearts of these communities so that they will have a blessed Raya with their loved ones.
About GCH Retail (Malaysia) Sdn Bhd
GCH Retail (Malaysia) Sdn. Bhd., (GCH) a subsidiary of Dairy Farm International, is the operator of Giant hypermarkets and supermarkets chain; Cold Storage, Mercato and Jasons Food Hall premium grocery stores. Keeping abreast of latest market trends, GCH Retail continues to deliver on modern retail experiences and avails Malaysian customers to a wide array of products and produce, including quality value selections as well as premium and exclusive offerings. GCH Retail's latest industry accolade includes being Retail Asia-Pacific's Top 500 Gold Winner as Malaysia's Number 1 Retailer. Operating stores across Peninsular Malaysia and in Sabah & Sarawak, GCH Retail retains a strong foothold in the local retail industry and continues to maintain a strong leadership position.
(All information is correct as at 8 February 2018)