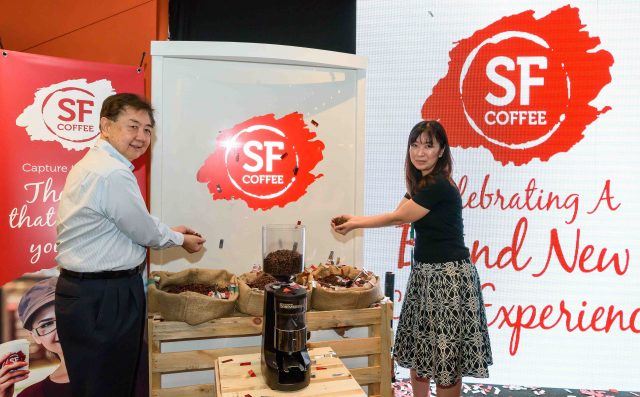 8 August 2017
Having served Top-of-the-Crop coffees for almost two decades SF Coffee, or San Francisco Coffee as most of us know it, has served up a freshly brewed look for its outlets that combines cool ambiance with décor that has been perked up with works by home-grown artists.
"The rebranding of SF Coffee presents a new yet familiar name and logo that encompasses the whole corporate identity of the brand, with one of the most visible aspects being the different interior design concepts of each outlet as well as improvements of the overall ambience for the enjoyment of our customers," said Envictus International Chairman Dato' Jaya J.B Tan.
The new outlets are designed to act as mood modulators for customers once they step in by satisfying the five senses and creating a pleasing experience.
"Our outlets now feature a fresh look and cozy ambiance for our consumers to enjoy our great coffee, which is the one thing that remains consistent. We will never compromise on the quality of coffee that SF Coffee serves," said Ms. Koo Sue San, General Manager of SF Coffee Sdn. Bhd. at the unveiling of its new logo and concept store, located at The Envictus in Petaling Jaya.
Roughly 1,600 square feet in size, the outlet at The Envictus is decorated in cozy bold colours with wood elements although other refurbished SF Coffee outlets will carry their own identities depending on location. Every new outlet will also have a space to feature works by home-grown artists. This particular outlet features the work of DuDu de Doodle, a coffee loving artist who draws to spread positivity, loves to doodle and first began doing it in a café.
SF Coffee currently has 37 differently themed outlets, which are located throughout the Klang Valley, Selangor, Negeri Sembilan and Pahang and has started to explore the East Malaysian market with plans to have a presence there in 2018.
"SF Coffee has been in Malaysia for almost two decades now and this transformation is to cater to the evolving needs of our customers, and the many reasons they enjoy our brand so that they can continue to treat themselves as we provide the freshest coffee, best service and an even more enjoyable experience," said Koo.
"We source our beans from the best coffee farms around the world and look for the extraordinary. To deliver a SF Coffee experience, we roast our coffee locally to ensure the utmost freshness and train our baristas to personify our belief in excellence as we are very particular about the brewing process for every cup of coffee which begins from sourcing, roasting, and cupping the beans," she added.