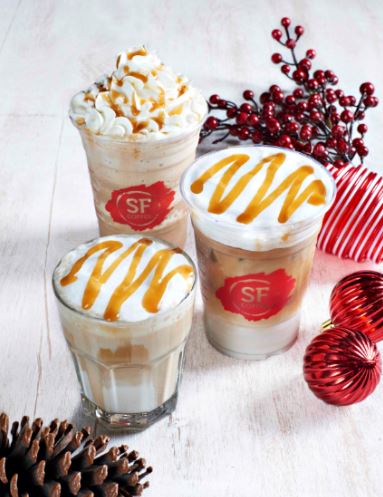 27 November 2017
The SF Coffee elves have been working hard and have come up with a mouthwatering festive menu that will be available in all its 38 outlets across Peninsular Malaysia, from now until the end of the year.
Served around the theme "In The Mood For Celebration", SF Coffee's festive menu will feature a festive flavours like butterscotch, turkey and cranberries.
The baristas will be brewing a range of signature Butterscotch Macchiato drinks to be enjoyed as a holiday treat that features Macchiato Latte beverages with a dash of Butterscotch and drizzled with rich caramel sauce.
Priced from RM13 to RM16.50, these beverages are served hot or iced as well as in the form of SF Coffee's signature Frisco Frappé.
The Butterscotch Macchiato pairs beautifully with the new Creamy Turkey Pasta, that features penne, turkey, button mushrooms and cherry tomatoes in a hearty cream sauce, topped with crispy chicken strips, Parmesan and parsley for a deliciously festive meal.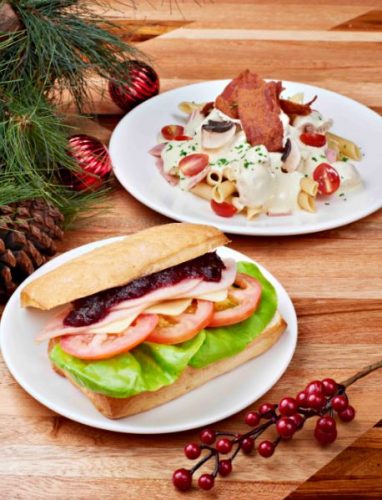 Another delightful festive treat is the Merry Turkey Focaccia that features turkey breast rolls and natural cheddar cheese on a bed of lettuce and tomatoes with a whip of cranberry sauce for that holiday touch. Both the pasta and sandwich are selling at RM18.90 each.
"The year-end period at SF Coffee is a special time of the year for us, so we are making it an extra special place for friends to catch up and even exchange presents over a cup of festive coffee. The store elves will be busy making sure the mood is right for the festive celebrations by making everything more merry and bright," said Koo Sue San, General Manager of San Francisco Coffee.
Those looking for a special gift for coffee lovers can choose any of the fresh coffee beans in 100g bags worth RM12.75 for free with every purchase of a SF Coffee Graffiti tumbler, which is selling at RM75.90.
For more details of the festive promo and menu, go to SF Coffee's Instagram page or visit the website at www.sfcoffee.com